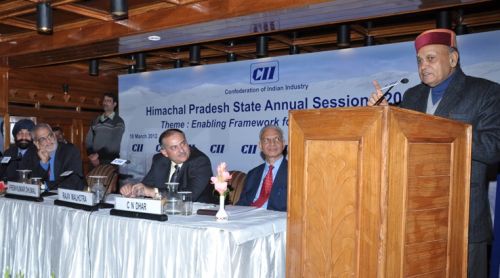 State Government has provided various facilities to the entrepreneurs at their door steps besides providing them congenial industrial investment friendly environment in the State. This was stated by Prem Kumar Dhumal, Chief Minister, in the Himachal Pradesh State Annual Session of Confederation of Indian Industry organized on the theme: Enabling Framework for Sustainable Growth, here last evening.
Chief Minister said that the State had been maintaining cordial relations with the entrepreneurs investing in Himachal Pradesh. He said that it was on the demand of the industrialists that a separate police and excise district was created for Baddi Barotiwala Nalagarh Industrial area besides a Tehsil, land bank, public works and electricity divisions, drug controller's office and had signed an MOU with the Gas Authority India Limited to connect industrial area with piped LPG line. He said that efforts were afoot to complete the container depot on priority and press upon the Union Railway Minister to connect the area with broad gauge railway line. He said that besides creating a strong network of basic infrastructural facilities, the State Government had maintained best law and order conditions in the area besides putting check upon corrupt practices at all level.
He said that it all had resulted into winning the trust of the entrepreneurs who, besides withdrawal of the special industrial package by UPA Government three years ahead of its scheduled date, were coming forward with their investment proposals.
Prof. Dhumal said that the State had registered its Gross Domestic Product at 7.6 percent against national average of 6.9 percent which was point 7 percent more than the national average. He said that contribution of off season vegetable and apple had increased during past couple of years substantially and despite the fact that due to low yield of apple crop, valued at Rs. 900 crore, off season vegetable had contributed Rs. 1850 crore towards SGDP during preceding season.
He said that the State Government had envisioned and implemented a number of schemes aimed at strengthening the traditional income generating sector of the rural Himachal, successfully which were contributing significantly towards generating employment and self employment avenues to the educated unemployed rural youth at their door steps. He said that optimum utilization of the varied climatic condition was being ensured by motivating farming community to diversify their traditional cropping practices to modern and organic farming.
Prof. Dhumal said that he had personally been monitoring the genuine grievances of industrialists and making concerted efforts to deliver them all possible relief in a time bound manner. He said that industrialists were the ambassadors of the State who could lend their supportive hand in attracting more industrial investment to the State.
He appealed to the industrialists to help in maintaining best environment friendly conditions around their units by disposing off all waste in a scientifically and environmentally safe manner. He said that it was due to the special attachment of former Prime Minister of India, Atal Behari Vajpayee that a Special Industrial Package was sanctioned to North Western States on the analogy of North Eastern States but due to the bias attitude of the UPA Government the same was withdrawn ahead of its scheduled date of March, 2013.
Vijay K. Thadani, Chairman, Northern Region, detailed the activities organized by CII in association with growers of the State successfully. He said that four job fairs had been organized in the State and 2,400 youth were recruited in a single day at Dharamshala Job Fair. He said that the CII was contributing significantly towards fulfillment of its Strong Corporate Social Responsibility. He underlined the need for industry specific skill upgradation of the unemployed youth in the State. Navin Agarwal, Partner, Management Consulting KPMG, gave a detailed presentation on Investment Climate in Himachal Pradesh.
Rajiv Malhotra, Chairman, CII Himachal Pradesh State Council, welcomed the Chief Minister, and thanked him for protecting interests of entrepreneurs. He also apprised Chief Minister of their grievances. C.N.Dhar, Vice Chairman, CII, HP State Council, presented vote of thanks. Dr. D.S.Manhas, Director General of Police, other senior officers of the State Government and representatives of different organizations attended the meeting.