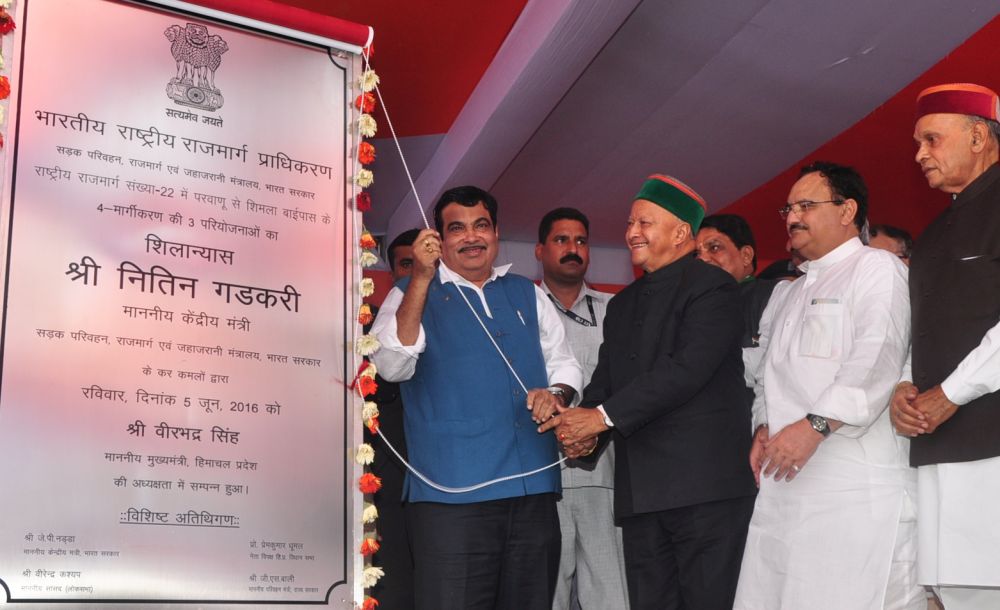 Solan: Union Minister for Road Transport and Highways and Shipping Nitin Gadkari today declared twelve roads 114 kms long Sanaura-Rajgarh-Nohradhar-Haripurdhar-Ronhat-Jamli road, 58 kms Sataun-Renuka-Dadahu-Jamta-Dosadka road, 50 kms. long Hairpurdhar-Sangrah-Renuka road, 57 kms Kandaghat-Sadhupul-Chail-Kufri road, 77 kms long Haripurdhar-Kupvi-Tarahan-Saharan- Chopal road, 110 kms long Sainj, Deha-Chopal-Nerwa-Phedach Pul road, 20 kms long Solan-Sabathu road, 57 kms long Kafota-Jakhana-Joung-Tunia-Haripur road, 96 kms long Rohru-Chirgoan-Larot-Dodra-Kwar road, 35 kms long Nalagarh-Dabhota-Baruna-Bagheri-Mora road, 80 kms long Sanaura-Yashwantnagar-Gauda-Dublu-Janedghat-Chalanda-Junga-Mehli road and 60 kms long Hatkoti-Mandol-Tahu-Tharola-Kotkhai road as National Highways.
The Minister also laid foundation stones of three road projects worth Rs. 2655 crore. He laid foundation stones of four-laning works of Parwanoo-Solan block on National Highway 22 (now National Highway No.-5), Solan-Kaithalighat block and Shimla bypass. Chief Minister Virbhadra Singh presided over the function.
Speaking on the occasion, Chief Minister Virbhadra Singh said that roads were major mode of connectivity in hill States like Himachal Pradesh and the first Chief Minister of the State Dr. Y.S. Parmar considered them as life lines as they played important role in strengthening the economy. He said that at present there were 35,000 kms. motorable roads in the State and 3120 panchayats had road connectivity whereas left out panchayats were being connected soon.
He said that application of modern technology was needed for construction of roads in hills as they were accident prone and no compromise should be made in quality as well as technique.
He thanked the Union Minister for laying the foundation stones of the important road projects.
Dr. B.R. Singla, Chief General Manager, National Highway Authority of India welcomed the dignitaries and briefed about the road projects.
Union Health Minister JP Nadda, State Social Justice and Empowerment Minister Dr. (Col.) Dhani Ram Shandil, Ayurveda Minister Karan Singh, Leader of Opposition Prem Kumar Dhumal, MP Virender Kashyap, Additional Chief Secretary PWD Narender Chauhan, senior officers of various departments and prominent persons were also present on the occasion.