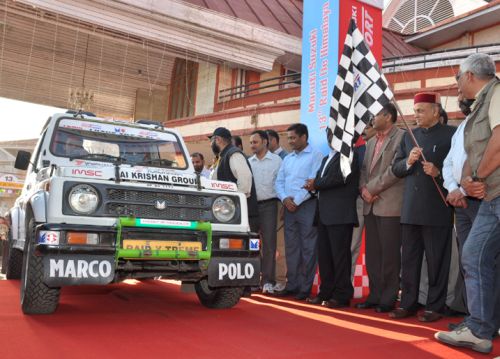 Chief Minister flagged off the 13th Raid de Himalayan Motorsport Rally, the most adventurous and longest in the world, from historic Peterhoff. Addressing the flagging off ceremony, Chief Minister, congratulated the Himalayan Motor Sport Association for maintaining the tradition of organizing the Raid de Himalayan Motorsport Rally every year which had started in year 1999 from Shimla itself.
In the first edition 19 participants took part in the rally and this year 162 teams consisting of 240 participants are taking part in it. Chief Minister lauded the impact of the rally and said that Rally had been instrumental in earning name and fame for Himachal Pradesh. He said that the Rally had drawn participants from all over the world who had been exploring the inner and virgin destinations in the State from tourism point of view. Chief Minister said that the Raid represented the spirit of competitive adventure amongst all its participants who were equipped with the latest in the motor sport world. He said that the event had gone beyond the state boundaries to Laddakh region and into Kashmir this year. He said that Chamba and Pir Panjal range in the State and Leh and Zanskar Valley had been added to the route of the rally. He said that the State was conscious of the precious environment of the Himalayas and congratulated the organizers for adopting the sense of social responsibility by minimizing levels of noise and air pollution by strictly regulations for all participating vehicles to this effect.
Atul Handa, General Secretary of Himalayan Motor Sports Association presented draft of 1 lakh towards the Chief Minister's Relief Fund. Shashank Srivastava, Chief General Manager, Maruti Suzuki, welcomed the Chief Minister and said that the company had been regularly sponsoring the event since its inception. He said that the rally would be passing through the toughest terrain of Himalayas and the company would be evaluating the capability of the machinery to undertake such difficult journeys to modify the same for future events. Jai Ram Thakur, Panchayati Raj and Rural Development Minister, Shri Onkar Sharma, Deputy Commissioner, other prominent people and participants from different countries attended the flagging off ceremony.