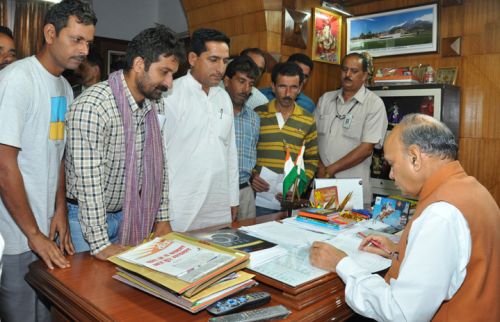 The debt burden on Himachal is increasing incessantly and now it has risen to the staggering Rs.27,603.66cr. it means that each Himachal citizen now carries Rs.3.7 crore debt.
Unable to meet its growing expenditure with tax and non-tax revenue generation, the state has increasingly fallen back on borrowings, and in the process the hill state's loan liabilities have risen by over Rs.5,400 crore in the past three-and-half years alone.
Chief Minister Prem Kumar Dhumal had earlier informed the state assembly in a written reply that the central government had fixed a borrowing ceiling of Rs.1,647 crore for this fiscal. The state has its own sources of tax and non-tax revenue. Non-tax revenues are mainly the sale of electricity and royalties on forest produce and extraction of minerals, according to the chief minister.
The chief Minister blamed the central government for the state's poor financial position and accuses that center's indifference is a one of the key reason for it. Chief Minister added that the state's annual salary liability is Rs.4, 450 crore but the central government has assessed it at only Rs.3, 600 crore. Similarly, the pension liability is Rs.1, 850 crore but it was assessed at Rs.1, 400 crore.
The total expenditure in the state's budget for 2011-12 has been pegged at Rs.16,708.47 crore with salaries accounting for Rs.5,881.66 crore, interest payments Rs.2,150.58 crore, loan repayments Rs.960.84 crore and pension Rs.2,210 crore.