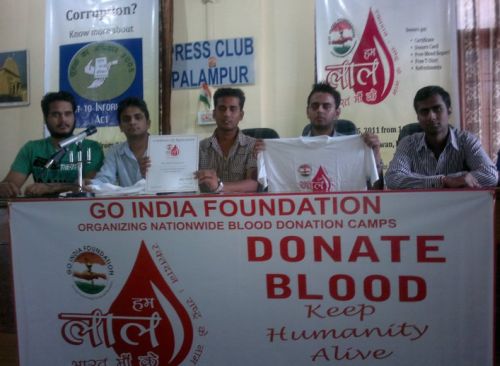 A Delhi based NGO; Go India Foundation hold a press conference at press club Palampur and informed about the blood donation camp that would be taking place at Rotary Bhawan, Palampur on independence day from 11 AM to 5 PM.
The blood donation will be carried under a national campaign "Hum Lal Bharat Maa ke" of Go India Foundation. NGO informed that this year 122 blood donation camps are being organized across India. The main aim of this blood donation is to bring awareness amongst the people about the noble cause of voluntary blood donation. All blood donors will be honored with the certificate.
A Right to Information workshop is also being organized alongside of the blood donation on August 15, 2011 at the same venue. In the workshop people will be given information about RTI act and its benefits to the society. People would be educated about how RTI can help to curb the corruption and bring accountability in our system. The young activists appealed to the people to use the Independence Day for welfare activities. They requested everyone to be a part of the blood donation.
Via: Himmail Newspaper