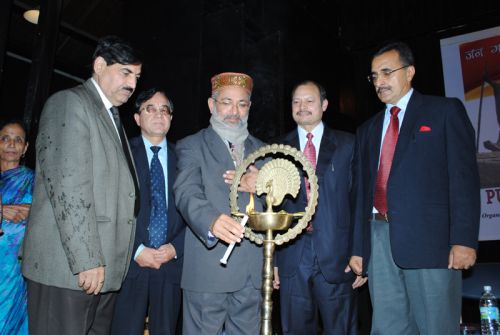 Chief Justice of Himachal Pradesh High Court, Justice Kurian Joseph said that it was moral duty of every citizen of the country to take a pledge that he would not indulge in corruption and also would not allow others to be corrupt besides fighting corruption tooth and nail.
Justice Kurian Joseph was presiding over a colloquium on Fundamental duty 'Value and Presentation of Rich Cultural Heritage' organized by the Himachal Pradesh Legal Authority, in association with SEWA, Public Relations Society of India, Shimla Chapter and Language, Art and Cultural Department , Himachal Pradesh.
He, quoting father of the Nation, Mahatma Gandhi, said that everything had been provided for the need of the person and not for his greed. He said that one should not desire more than the need otherwise it leads to corruption.
Chief Justice called for introspection about right and duty for the cause of good society and added that Right also imply duty.
Emphasizing the need for strengthening the communal harmony in the larger interest of unity and integrity of the Country, Justice Kurian Joseph said that India was a Secular State and its secularism character provide for respect to all religions irrespective of Caste, Colour and Creed.
Justice R.B. Mishra, Judge, Himachal Pradesh High Court and executive Chairman, Himachal Pradesh State Legal Authority said that tolerance and co-existence was the essence of all religions and it was the duty of all that we preserve it by extending respect to all religions by rising above all considerations.
He exhorted the students and other children to imbibe good thoughts and take a pledge to provide country with rich culture, heritage and traditions.
He also dwelt on the aims and objectives of the State Legal Authority and added that it provides legal aid to all except those who were prosperous.
Justice Surinder Singh, Judge High Court in his key note address dwelt upon various aspects of the rich cultural heritage of the country. He said that real strength of the Indian cultural lies in its unity and unity in diversity was the Nations strength.
Dr. Srikant Baldi, Principal Secretary, Education and Finance HP Government in his address dwelt upon evolution of culture.
He stressed that culture should be a part of curriculum in every educational institutions. He added further that in Himachal Pradesh culture and Yoga had been made part of school curriculum. He also stressed for respect of each other religions.
Dr. Prem Sharma, Director, Language, Art and Culture traced out the history Indian culture and said that Indian culture was one of the oldest in the world.
Judges of the High Court and subordinate judiciary, Director General of Police Dr. D.S.Minhas, Sh.Vepa Rao, Sarankshak and Meenakshi Kanwar Chairperson of Sewa, Sh.B.D. Sharma, Chairman Public Relations Society of India, Shimla Chapter were also present on the occasion.
An interactive session on Fundamental duty was also organised in which students from various schools of Shimla and other participated in large number.