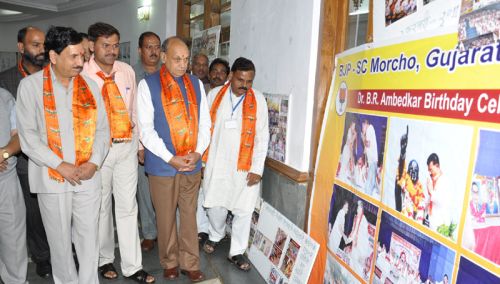 Chief Minister said that the State Government had earmarked 25 percent of its annual budgetary provisions for spending under Scheduled Caste Sub-Plan and Rs, 2,198.37 crore had been spent on the concentrated developmental activities of the scheduled castes in the State in past three years and in addition Rs. 816 crore provision made for current financial year. CM said it in the closing ceremony of the three-day long National Executive Meeting of the Scheduled Caste Morcha of Bhartiya Janta Party, at Peterhoff, here today.
Chief Minister said that it was during the current BJP regime in the State that the provisions were increased from 11 percent to 25 percent to facilitate maximum developmental coverage of the scheduled caste dominated villages. He said that compared to Rs. 231 crore earmarked during the financial year 2007-08, the same were enhanced to Rs. 594 crore in 2008-09, Rs. 668 crore in 2009-10 and Rs. 742 crore in 2010-11. He said that the condition of 50 percent scheduled caste had been relaxed to 40 percent with a view to bring maximum number of villages under its fold and had benefitted 6,355 villages. He said that there were a large number of schemes under implementation in the State for speedy upliftment of the community and providing them every opportunity to get their socio-economic status alleviated. He said that Dr. Bhim Rao Ambedkar Scholarship scheme was launched for the students of the community to help them continue with their higher studies. He said that the students of the community were being provided free coaching for competitive examinations of All India and State Level Services in HP University.
Prof. Dhumal said that the State Government had launched Dr. Bhim Rao Ambedkar Medical Aid Scheme to provide 75 percent subsidy on treatment expenses of the members of the community for critical ailments. He said that the State Government had introduced Mukhya Mantri Adarsh Gram Yojna to provide financial grant of Rs. 10 lakh to the scheduled caste dominated villages to complete the ongoing schemes so that benefit of the same was delivered to the community on priority. He said that additionally 'Mata Shabari Sashaktikaran Yojna' had also been launched from current financial year to provide 50 percent subsidy on LPG gas connection to the women of BPL families of the community and 5,000 families had been targeted to be benefitted under the scheme during current financial year. He said that Pandit Deen Dayal Kisaan Bagwan Samridhi Yojna, Doodh Ganga Yojna, Organic Fertilizer Scheme were other ambitious schemes under implementation to strengthen rural economy in the State. He said that a subsidy of 33 percent was being provided to scheduled caste beneficiaries under Doodh Ganga who were eligible to avail loan upto Rs. 15 lakh to find self employment in dairy farming sector. Prof. Dhumal welcomed the Members of the National Executive of BJP SC Morcha to the State. He also went around the exhibits displayed in the venue.