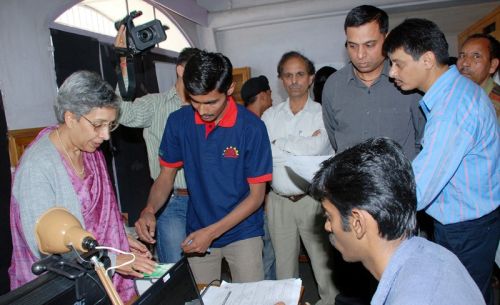 Chief Secretary Rajwant Sandhu inaugurates the process to issue the Unique Identification Number (UID) for Shimla Zone here today. After enrolling herself for the Unique Identification Number in the Enrollment Station set up in the H.P.Secretariat, Rajwant Sandhu informed that the process of issuing UID cards will complete in the state by June 2012. She said that 748689 enrollments for UID cards have already been registered in eight districts of the state so far.
She said that 75 enrollment stations will be set up to cover Shimla district whereas 75 enrollment stations have been set up in Kangra district, 5 in Chamba, 54 in Una, 50 each in Hamirpur , Kullu and Mandi districts where the process of issuing UID cards had already begun. She further said that Sirmour, Solan and Kinnaur districts would also be covered under Shimla Zone in a phased manner whereas 129157 enrollments have been registered in Kangra district, 3928 in Chamba, 160531 in Hamirpur, 275519 in Una, 47589 in Kullu and 131965 in Mandi district so far.
Director, Department of Information Technology informed that Department of Food and Civil Supplies was implementing the project in the state with the assistance of Department of Information and Technology.