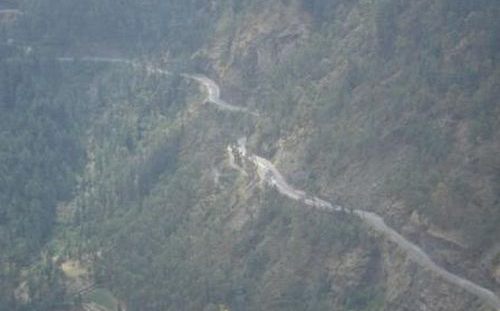 Hapless road conditions in Shimla district isn't a new tale to be told, but besides poor maintenance negligence is another factor accounting enormously to the wretched roads that we are scared of driving on. While the widening of the main State highway, connecting the State capital with upper areas of the district vis-à-vis Theog, Kothkhai, Jubbal and Rohru, is under course, these areas remain unapproachable sans discomfort. This horrid situation has affected vegetable and apple growers of the area immensely – yet the Sainj-Solan road that could be a better connectivity route for these growers remains unnoticed by the State authorities.
The 60 odd km stretch that has seen vehicles plying over it for over 30 years now, is still in the tattered state it must have been the same number of years ago – the road is very narrow and isn't coated in tar. The road which is almost 35 kilometer shorter in distance to Chandigarh – than via Shimla, could be beneficial for travelers, vegetable and apple growers of Rohru, Jubbal, Kotkhai, Chopal, Balson and other connecting areas, who could reach Chandigarh and other markets quicker. The local residents that frequently use this route, to avoid the Chailla-Shimla road, are very depressed by the pathetic road condition and have repeatedly demanded attention from the government that has always ignored the issue.
The Sainj-Solan road, if given heed to in the near future, could be a great help citing the government's plan of starting Asia's biggest apple market near Chailla, besides it could also be useful to defence personal, as this could be a better connecting road to NH22 which often remains clogged from Shimla enroute to Theog due to heavy traffic.
Citing the poor road condition in the entire district, Chopal youth Congress president Shyam Sharma told us, "BJP has ruined the state, condition of road is deteriorating day by day. Even road in Shimla city aren't in good shape. BJP has let down the himachalis, and this apathy will become a cause of the government's downfall."