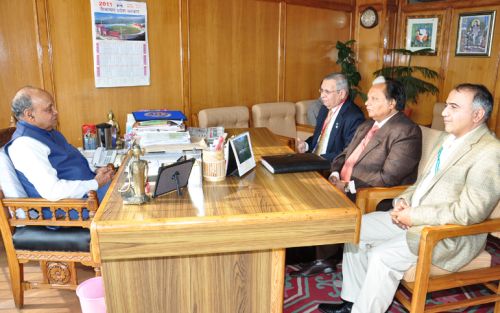 The United Kingdom based International Hydro Power Association will volunteer its expertise for exploitation of entire identified hydro potential available in Himachal Pradesh. Chief Minister unleashes the plan while meeting with high level delegation led by President, International Hydro Power Association, United Kingdom Dr. Rafaat Abdel Malek.
State had identified over 23,000 MW hydel potential out of which only 25 percent had been exploited so far. Chief Minister clear that a number of projects were under execution in different parts of the state and by the end of 12th Plan, the State will enhance its capacity to 17,000 MW. Dhumal clear that the State is adopting transparent method of allotment of the hydro power projects. The mini and micro projects upto the capacity of 2 MW were exclusively reserved for young Himachali entrepreneurs who were being given preference in the projects with capacity upto 5 MW while projects of above 5 MW capacity were advertised for open global bidding and any entrepreneur or company from any part of the world was welcome to bid for any of the projects in the State.
He said that the State will welcome International Hydro Power generation companies to undertake execution of some of the major projects in the State for optimum utilization of the available hydel potential. He assures that State Government will also extend all possible help to such entrepreneurs who complete the projects within minimum possible time.
Dr. Rafaat Abdel Malek presented an overview of the global hydel potential and informed about the status of hydro power scenario the world over. He said that the State has vast hydel potential that can be exploited to the optimum in a time bound manner. He advocated reservoir based hydro power projects, since the surplus water could be used for power generation in lean season. He said that there was a need for constructing high capacity hydro power stations so that water discharge during monsoon or snow melting period could be utilized properly. He said that the solar and wind power projects needed to be supplemented by hydro power projects so that continuity of generation of the power was maintained. He said that a number of International hydro power generation companies are keen to invest in Himachal Pradesh and assures with the technical expertise from the International Hydro Power Association.