Lahaul & Spiti is a big district having international boundary with Tibet. It attained the status of a district in the year 1960. Till then it was merely a tehsil of Kullu Sub-division. The valleys, mountains, glaciers, rivers, forests, pastures, gompas (monastries) and ancient buildings of the former ruling dynasty are the principal objects of study.
The rugged awe-inspiring snow clad mountains are standing invitation to the hikers, mountaineers and adventurers. The entire district is full of natural scenery exhorting the tourists and visitors to explore and imbibe its hidden grandeur. The customs, myths, beliefs and conventions of the simple unsophisticated people are the unique features of this border highland. Every village or a hamlet has a prayer flag fluttering over the Buddhist monastery. These shrines are the centers of the cultural life of the people that have influenced their religious beliefs for centuries and round which their social life revolves.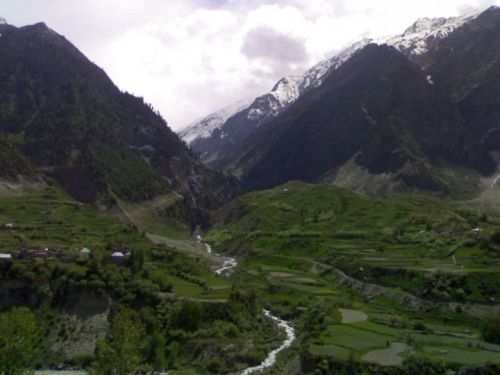 Origin of the Name of the District
As is clear from the name 'Lahaul & Spiti', the district comprises two different mountains tracts, one known as Lahaul and the other as Spiti. Hence the name of the district came into being with the formation of these two parts into a revenue district. The names, Lahaul & Spiti, have different origins. In ancient Buddhist scripures, 'Padma thangyiang' and 'Mam-kambum' there is mention of a country named Khasa or Hasha to the south of Ladakh and Zangskar. It is possible also that 'Garzha' may be corruption of Khasa or Hasha. Between the 6th century B.C. and the 5th century A.D., the Saka and Khasa tribes, after having been driven out from Central Asia by the Huns, crossed over into India. many of these settled down in the valleys of Mid-Himalayas between Garhwal and Ladakh. This is borne out by the numerous remains of their graves found in these valleys. There is a nullah near Keylong known as Shaks, which seems to have taken its name after the Saka tribe settled in the Bhaga valley.
R.k. Telangba