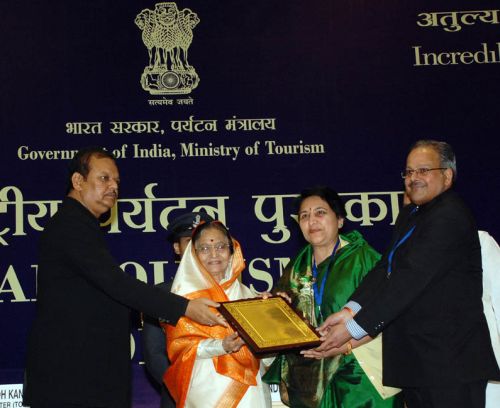 President Mrs Pratibha Patil today presented national tourism award to Himachal Pradesh in a function held in vigyan bhawan New Delhi today. Principal Secretary Tourism Manisha Nanda and Director Tourism Dr Arun Kumar jointly received the prestigious award from President Pratibha Patil in presence of union tourism minister Subodh Kant Sahay and top officials of Govt of India.
Himachal Pradesh has been awarded the top prize for excellent promotion publicity material, said Director Tourism Dr Arun Sharma and added that last year the tourism department had published a table book 'Har Ghar Kuch Kehta Hai' for the first time which provided a peep into the historical and cultural heritage of Shimla, natural and religious tourists places besides famous folklores of the State which became popular among the tourists.
He said that Himachal Pradesh was the first State to produce an Electronic Brochure to guide the International tourists and added that the award was conferred upon the State for successful implementation of various tourism schemes. He added that the tourism sector was contributing ten percent to the State GDP. He said that the folklores of Shimla had been complied by local experts and booklets had been published under 'Har Gaon Ki Kahani' to make people aware about various areas of the State.
Dr Arun Kumar said that The National Tourism Award is recognition of the efforts state is putting in to become the most favroutie destination in the country to fulfill the motto of Unforgettable Himachal for all seasons.