Nauni/Solan: Climate Change is a reality and the impact of the constant rise of the temperature is appearing right now. The heat is melting glaciers, shifting precipitation patterns and setting animals on the move. Rising temperature is also impacting the Himalayan region and in the last 120 years temperature of Himachal Pradesh has increased by 1.5 ºC.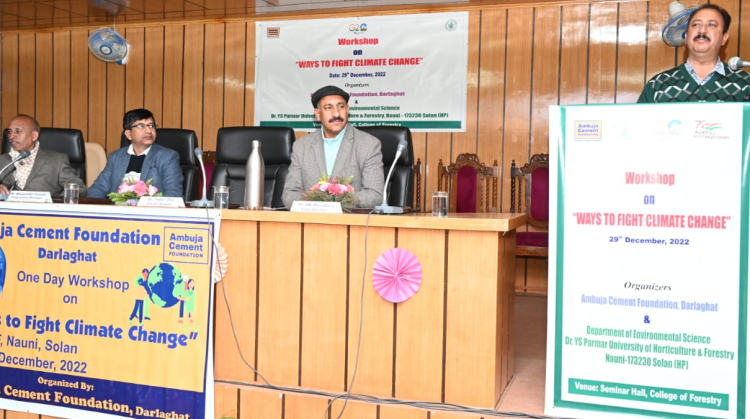 Over 100 environment experts discussed sector-wise adaptation and mitigation strategies to combat climate change at a workshop 'Ways to fight climate change' at Dr Yashwant Singh Parmar University of Horticulture and Forestry, Nauni. The workshop was organised by the University in collaboration with Ambuja Cement Foundation Darlaghat.
Environmental Scientist Dr SK Bhardwaj pointed out that the average temperature of Himachal Pradesh has increased by 1.5 ºC during the last 120 years.
"Presently, every country in the world is working to keep the temperature rise below 2ºC but still the results are not satisfactory and there are projections that by the end of this century temperature may increase beyond 2ºC which can be very devastating and indicate a climate emergency," Dr Bhardwaj apprised the workshop.
Dr Bhardwaj said that under the climate change situation there is a need to create climate literacy so that we at the individual level start living in harmony with nature to make a sustainable human society.
Another expert Dr Inder Dev emphasised the need to kickstart an individual initiative to tackle climate change.
He discussed that from the period of 1901-2018, the globally averaged sea level rose by 2 mm per year and the rate is accelerating, with sea levels now rising by 3.7 mm per year.
Emphasizing the need to grow more trees at the individual level, Dr Dev suggested adopting mixed farming in the fields.
Bhupender Gandhi of Ambuja Cement Foundation, Darlaghat, enlisted various adaptation practices being promoted at farmers' fields to combat climate change in agriculture.
Environment scientists agreed that crop diversification is a solution to cope with climate change and enhance the nutritional value of food. Expert suggests for a need to focus on reaching a new universal agreement to fight climate change.