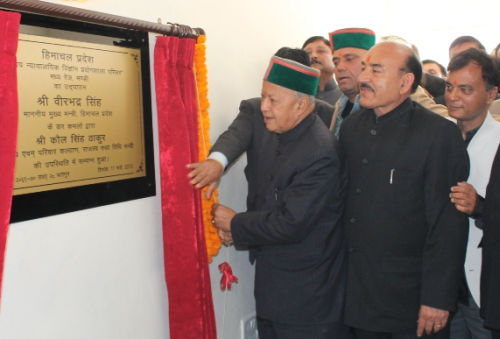 Chief Minister Virbhadra Singh inaugurated Regional Forensic Science Laboratory (RFSL) building at Bhiuli in district Mandi constructed at a cost of about Rs. two crores.
This RFSL would be beneficial for speeding up of investigation of crimes and help delivering justice to the people in limited span of time. At present this laboratory was providing services to five districts of Central Police Range and facilities available in this laboratory had been grouped into three divisions viz. Biology, Chemistry and Ballistic science and each division was headed by Assistant Director, a Scientific Officer.
Forensic Science Laboratory would also facilitate training to police personnel in forensic field. This Regional Forensic Science Laboratory had been approved by National Investigation Agency (NIA), and this laboratory would be upgraded under Modernisation of Police Forces Programme of Government of India.
Speaking on the occasion Chief Minister said that RFSL had its own library and this institution was under mailing list of CBI Bulletin and The Indian Police Journal. Chief Minister said that the RFSL had matched itself with fast growing technology of modern world which would help in speedy investigation of criminal cases.
Kaul Singh Thakur, Health Minister, Anil Sharma, Panchayati Raj and Rural Development Minister, Parkash Chaudhary, Excise and Taxation Minister, Sohan Lal MLA, Vikramaditya Singh, President Himachal Pradesh Sports and Cultural Association, Senior officers and other dignitaries were present among others on the occasion.