Remove construction material from roadside, route heavy traffic through Mehali and Bekhalti bypasses: ACS
HPTDC Lift will function till 11.30 PM in summer
Shimla: Historic Shimla City faced worst water crises in summer last year. Taps used to run dry for week and even in some places corporation could provide water once in 10 days. Due to shortage of potable water Hotel industry was worst hit.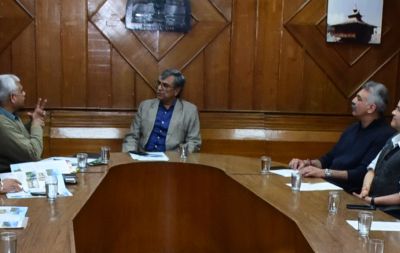 To avoid such scenario this time, administration has swung into action and taking stock of situation. Today itself Additional Chief Secretary, Tourism and Civil Aviation Ram Subhag Singh convened review meeting with top government officers to review the arrangements for ensuing summer tourist season. The members of the hotel Association of the Shimla also participated in the meeting.
Additional Chief Secretary confident of providing enough potable water this summer as beside regular water supply 10 MLD additional water supply are being lifted from Chaba. He claimed
"there is no shortage of water and therefore there is no possibility of water problem like previous year"
While stressing on the regulation of traffic control in the Shimla town, Ram Subhag Singh asked the Police department and the district administration for proper regulation of traffic in the town and other tourist places in the periphery so that any inconvenience to the tourists and the local residents could be avoided.
He directed the National Highway Authority and the state Public Works department to remove construction material from the road side.
Mr Singh said that keeping in view the heavy traffic inflow during the summer season, the Mehali and Bekhalti bypasses should be made active and proper signage's or digital monitors should be installed to guide the tourists about the available parking slots and bypasses to reach the tourists places like Kufri and Naldehra.
The ACS also directed to keep the lifts of the Tourism Development Corporation functional till 11.30 PM during tourist season to facilitate the tourists. Besides, it was also decided to organise cultural evenings, folk and band shows on the selected sites on the Mall to entertain the tourists.