The Indian National Congress has declared its candidates for two Lok Sabha seats in Himachal Pradesh, fielding former Union minister Sukh Ram's grandson Aashrey Sharma from Mandi and Solan legislature Col Dhani Ram Shandil from Shimla (reserved) seat.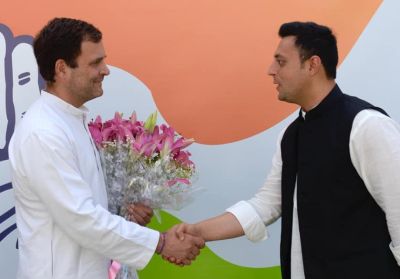 The Congress is yet to declare its candidates for the remaining two (Hamirpur and Kangra) of the total four seats in this hilly state.
The BJP has already declared its candidates for all the parliamentary constituencies in the state on March 23.
In the Lok Sabha elections, Sukh Ram grandson Aashrey Sharma, who had recently rejoined the Congress party along with his grandfather, will take on sitting BJP MP Ramswaroop Sharma on the Mandi seat. Earlier he was demanding ticket from BJP and after denying ticket from saffron outfit, Aashray left the BJP and joined Congress.
Former Himachal Pradesh minister and former MP Col Dhani Ram Shandil will fight against Pachhad BJP MLA Suresh Kashyap on Shimla (reserved) constituency. Col Shandil had won Shimla parliamentary seat twice in 1999 on Himachal Vikas Party-with the support of BJP and 2004 on Congress tickets. Presently Col Shandil is legislature from Solan assembly constituency.