Shimla: The country's largest Nathpa Jhakri Hydro Power Station crossed a cumulative 100 billion units electricity generation.
Nand Lal Sharma, Chairman and Managing Director of the SJVN told that the power station, which is designed to generate 6612 million units of electricity every year in a 90 per cent dependable year has all through been operating at more than 100 percent plant availability factor and generating much more than the designed capacity year after year.
The highest annual generation achieved, he informed was 7610 million units in 2011-12.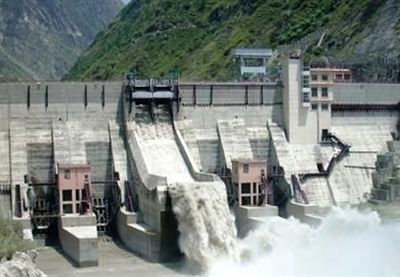 The power station, rightly acknowledged as a "Marvel of Civil Engineering "by the World Bank had been fully commissioned in the year 2004. The power station is endowed with many features un-paralleled in the World and its successful implementation and operations had opened many a vistas of expansion, diversification and business growth for the company.
The Power station has the World's most voluminous desilting chambers (four chambers each 525 m long x 27.5 m deep x 16.31 m wide), one of the longest 27.39 km long head race tunnel, one of the deepest 301 m surge shaft and one of the largest underground power house complex.
Talking about the phenomenal returns grossed by the power station since coming into commercial operations in 2004, Sharma told that the 1500 MW Nathpa Jhakri Hydro Power plant had been implemented at a cost of Rs.8187 crores, and over the years has earned substantial revenues not only for paying back to the shareholders but also funding its other upcoming projects. The revenues earned, he told had not only added substantially to the company's net worth which today stands at Rs.10695 crores, but also to its reserves at Rs. 6764.91 crore. On these earnings, Sharma informed that the company had also paid back fruitfully to the shareholders. The major shareholder Government of India has been already paid a total dividend of Rs 3889.4 crore on an investment of Rs.3081.6 crore while the Government of Himachal Pradesh holding 26.85 percent of the equity has been paid a total dividend of Rs1485.06 crores against an investment of Rs1055 crore, he informed.
The company which went public with an IPO in 2010 has also been paying substantial dividends to the public shareholders.