Dr RK Aggarwal, Scientist of the Department of Environmental Science at the Dr YS Parmar University of Horticulture and Forestry (UHF), Nauni has bagged second prize from the Government of India for his book on increasing farm incomes through solar drying of fruits and vegetables.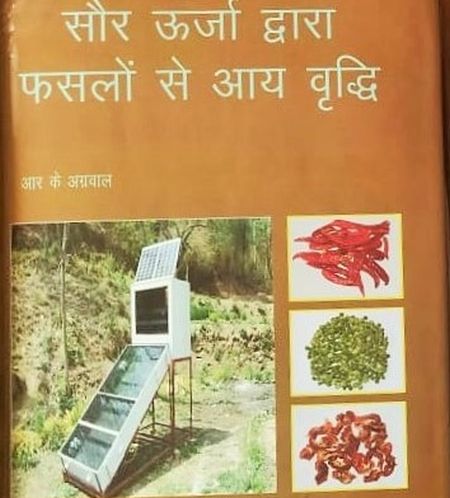 The Ministry of New and Renewable Energy (MNRE), GOI has awarded the national level prize under its natural energy award scheme. The prize has been awarded for the year 2016 to Dr Aggarwal's Hindi book titled, 'Saur Urja Dwara Fasalon se Aaye Vridhi'. It includes a cash award of Rs 60,000. The book contains various aspects of solar drying technology based on his field experiences since the year 1990.
While thanking the University for providing opportunities to work in the field of renewable energy, Dr Aggarwal said, "The book is focused on improving the quality of dried products along with considerably enhancing markets rates of the produce. Because of it being highly cost-effective, solar drying will immensely benefit the farmers, particularly women. The value addition of products will not only increase the income of farmers, but will also empower the women."
He added that the book would also be useful for students and other stakeholders working on solar drying. He also thanked the MNRE and Science for Equity Empowerment and Development (SEED) division of DST for funding the projects for over 25 years to develop solar dryers for the farming community. These dryers established under this project have been established in various parts of Himachal and Uttarakhand.
Dr HC Sharma, Vice-Chancellor of the university, congratulated Dr Aggarwal for bringing laurels to the university and the state. He added that the solar drying techniques elaborated in the book can help to meet the twin goals of reducing food waste along with enhancing farm incomes.