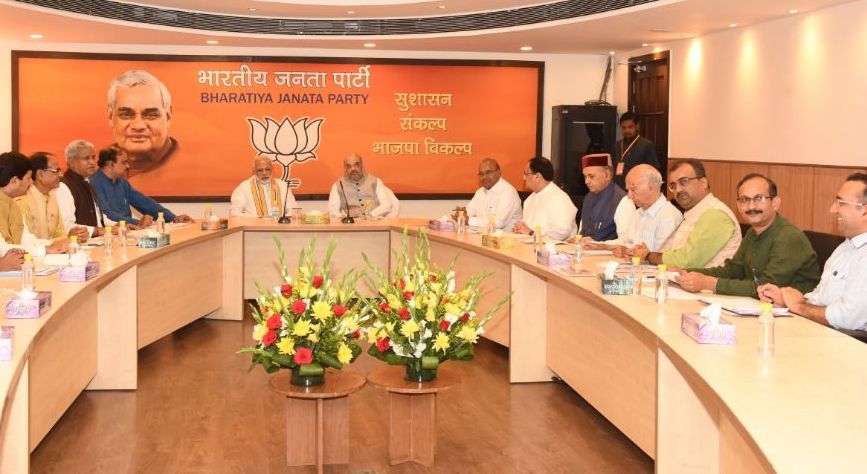 The Central Election Committee of the Bharatiya Janata Party (BJP) has announced its much awaited candidates for the November 9 General Election to the Legislative Assembly of Himachal Pradesh.
The BJP has changed tickets of four sitting legislatures from Arki, Chamba, Jhanduta and Bhoranj, while from Sujanpur BJP has fielded former Chief Minister Prem Kumar Dhumal and shifted Narender Thakur to Hamirpur assembly segment. Name of Kisan Kapoor from Dharamshala constituency is also included in the BJP list, who had threatened to contest election as an independent candidate if ticket wasn't given to him.
Interestingly BJP has fielded Pramod Sharma against Vikramaditya Singh from Shimla Rural segment, and Anil Sharma was given ticket from Mandi and another Congress turncoat Vijay Jyoti Sain was given ticket from Kasumpati Assembly segment.
BJP has replaced Khimi Ram, former minister in Dhumal Government, with Surendra Shourie from Banjar segment, while Maheshwar Singh, who had rebelled in 2012 and formed Himachal Lokhit Party, was also given ticket from Kullu segment.
Here is the complete list…
Chamba District
Churah (SC): Hansraj
Bharmour (ST): Jiya Lal Kapoor
Chamba: Pawan Naiyar
Dalhousie: D.S. Thakur
Bhattiyat: Vikram Singh Jaryal
Kangra District
Nurpur: Rakesh Pathaniya
Indora (SC): Reeta Dhiman
Fatehpur: Kripal Parmar
Jawali: Arjun Singh Thakur
Dehra: Ravindra Singh
Jaswan-Pragpur: Vikram Singh
Jawalamukhi: Ramesh Dhavala
Jaisinghpur (SC): Ravindra Dhiman
Sullah: Vipin Singh Parmar
Nagrota: Arun Kumar (Kuka)
Kangra: Sanjay Chaudhary
Shahpur: Sarvin Chaudhary
Dharamshala: Kisan Kapoor
Palampur: Indu Gauswamy
Baijnath (SC): Mulakh Raj Premi
Lahaul & Spiti District
Lahaul & Spiti (ST): Dr. Ramlal Markandeya
Kullu District
Manali: Govind Singh Thakur
Kullu: Maheshwar Singh
Banjar: Surendra Shourie
Anni (SC): Kishori Lal
Mandi District
Karsog (SC): Hira Lal
Sundernagar: Rakesh Jamwal
Nachan (SC): Vinod Kumar
Seraj: Jai Ram Thakur
Darang: Jawahar Thakur
Jogindernagar: Gulab Singh Thakur
Dharampur: Mahendra Singh Thakur
Mandi: Anil Sharma
Balh (SC): Indra Singh Gandhi
Sarkaghat: Col. Indra Singh Thakur
Hamirpur District
Bhoranj (SC): Kamlesh Kumari
Sujanpur: Prem Kumar Dhumal
Hamirpur: Narendra Thakur
Barsar: Baldev Sharma
Nadaun: Vijay Agnihotri
Una District
Chintpurni (SC): Balbir Singh Chaudhary,
Gagret: Rajesh Thakur
Haroli: Ram Kumar Sharma
Una: Satpal Singh Sati
Kutlehar: Virendra Kuwar
Bilaspur District
Jhanduta (SC): J.R. Katwal
Ghumarwin: Rajendra Garg
Bilaspur: Subhas Thakur
Sri Naina Deviji: Randheer Sharma
Solan District
Arki: Ratan Singh Pal
Nalagarh: Krishan Lal Thakur
Doon: Sardar Paramjeet Singh (Pammi)
Solan (SC): Rajesh Kashyap
Kasauli (SC): Rajeev Sahjal
Sirmour District
Pachhad (SC): Suresh Kumar Kashyap
Nahan: Rajeev Bindal
Sri Renukaji (SC): Balbir Chauhan
Paonta Sahib: Sukhram Chaudhary
Shillai: Baldev Singh Tomar
Shimla District
Chopal: Balbir Singh Verma
Theog: Rakesh Verma
Kasumpti: Vijay Jyoti Sain
Shimla (Urban): Suresh Bhardwaj
Shimla Rural: Pramod Sharma
Jubbal-Kotkhai: Narindra Bragta
Rampur (SC): Prem Singh Draik
Rohru (SC): Shashi Bala
Kinnaur District
Kinnaur (ST): Tejwant Negi
Earlier on 14th October, the Central Election Committee of the BJP had met under the Presidentship of Amit Shah at New Delhi, which was attended by Prime Minister Narendra Modi, and other members of the Central Election Committee of the BJP. However failing to reach to the consensus the Central Election Committee of saffron outfit couldn't announce the candidates.