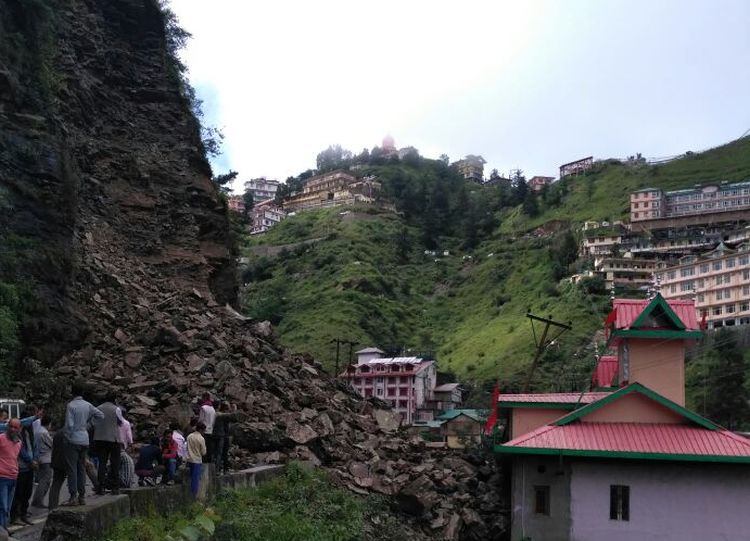 Shimla: Following incessant rain, a massive landslide has occurred near Dhalli Tunnel in Shimla that buried vehicles parked alongside the road and also damaged part of temple.
Police informed that three persons were rescued from the spot, meanwhile there are no reports of casualties so far. Locals said that small boulders had started falling on the road that alerted the passerby, and prevented any casualties.
The thrust of the landslide was so powerful that even throw a vehicle out from the road. Six to seven vehicles were also buried under the debris.
Landslide has affected vehicular traffic on the road and police has diverted traffic via Sanjauli.
Due to the lack of proper parking space in the area people usually park their vehicle on the roadside, and every monsoon many vehicles buried under the debris.
Earlier yesterday, landslide has disrupted traffic near crossing on Shimla-Chandigarh road. Still debris isn't cleared, and cliff can further cave in if rain didn't stop, and will cause huge loss the ongoing construction work along with road, which has already been narrowed due to the earlier landslide that had totally wiped out the portion of the road. Due to the unscientific digging for road and construction of houses, the hills of the Shimla city have become dangerous and putting city in possible doom in the coming time.
In every portion of the city, we can see unregulated and unscientific digging, which is being carried out without any geological survey. The responsible government agencies like department of Town and Country and Planning and MC Shimla, mainly gives permission for the construction in the city, boosting of regulating the illegal construction and illegal digging for paving way for construction, but in reality all their claims are wrong as unabated construction can be seen in the city. On the Dhalli-Malyana road huge number of construction has taken place in past few years. In the Malyana region unregulated digging of the hill is visible and such landslide could be regular feature and will definitely pose danger for the residents, if authority didn't take any stringent step.