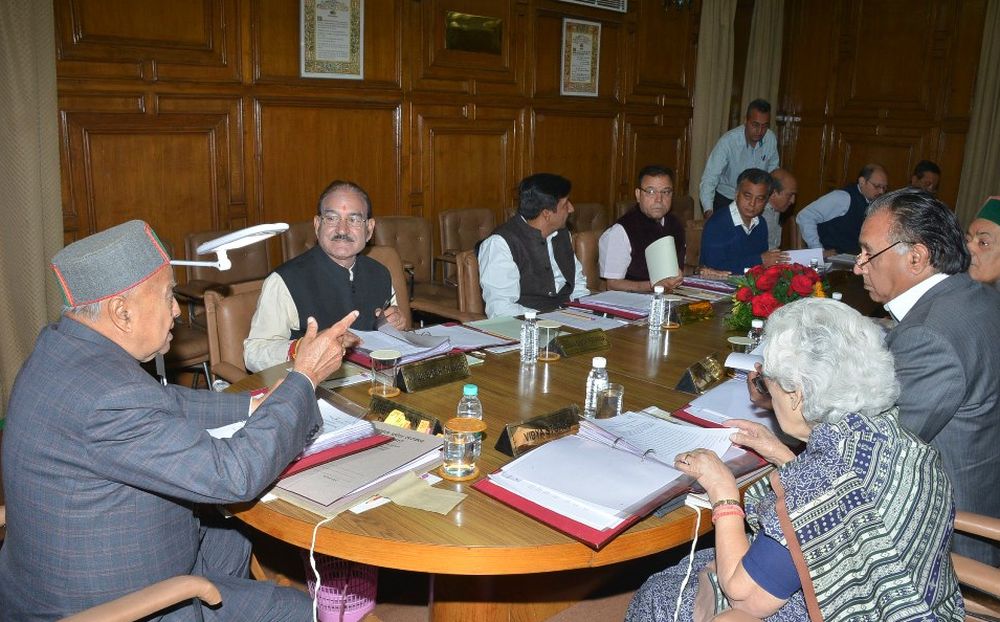 Shimla: The Himachal Pradesh Cabinet today decided to regularize the contract employees after 3 years of continuous service as on 31 March, 2017. Chief minister Virbhadra Singh had announced on 15th April, 2017 at Chamba during Himachal Day function.
The Cabinet, presided over by Chief Minister Virbhadra Singh, also decided to provide one day casual leave to contract appointees after putting one month of service, besides 10 days medical leave and 5 days special leave in a calendar year. A female contract appointee with less than two surviving children would be granted maternity leave for 135 days. Similarly the female contract appointee should be also entitled for maternity leave not exceeding 45 days, irrespective of number of surviving children.
It was decided to regularize the services of the para-medical staff of the Rogi Kalyan Samitis (RKS) after four years which includes three year service under Government contract and one year RKS, instead of eight years as was earlier.
The Cabinet also decided to provide 4-9-14 pay scale by counting adhoc/RKS/contract to be granted to all Medical Officers (General Wing) for the services rendered in the department for the year 2017, as a relaxation.
The Cabinet also approved that from 1st January 2018, Medical Officers will be appointed only on regular basis.
It was also decided that the Part Time Workers who have completed 8 years of continuous service as on 31 March, 2017 and 30 September, 2017 be converted into daily-wagers as per announcement of Chief Minister.
As per budget announcement of the Chief Minister, the Cabinet also accorded approval for enhancement of the rates of grant-in-aid of Chowkidars of Gram Panchayats from Rs. 2050 to Rs.2350. As many as 3226 Chowkidars would be benefitted.
The cabinet gave its approval for enhancement of monthly honorarium of the Aanganwari workers from Rs. 450 to Rs. 1450 and Anganwari Sahayikas from Rs. 300 to Rs. 600.
The state cabinet also given its approval to fill over 550 posts in various departments.
The state cabinet accorded its approval to fill 200 posts of Panchayat Sahayak in Panchayati Raj Department, 174 posts of forest guards on contract basis in the Forest Department, 60 posts of Agriculture Extension Officers by direct recruitment through H.P. Selection Commission, Hamirpur on contract basis and 25 posts of Agriculture Development Officers on contract basis through direct recruitment.
The Cabinet also approved to fill 31 backlog posts of clerks on contract basis in Higher Education Department, 12 posts of Drug Inspectors on contract basis through direct recruitment in the Health Department, 12 posts of Junior Office Assistants (IT) in the Department of Excise and Taxation on contract basis and also decided to fill eight posts in newly created Block Development Offices.