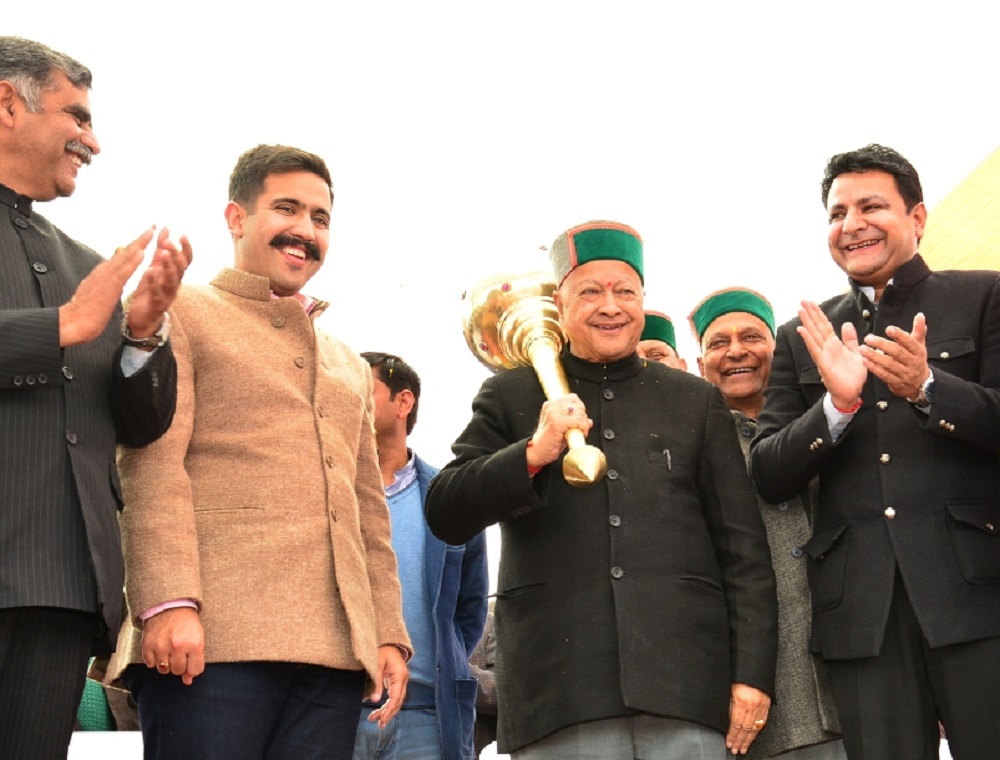 Matour/Kangra: Himachal Pradesh Chief Minister Virbhadra Singh blamed state BJP for politicizing second Capital issue and accused them for unnecessarily propagating the issue.
The Chief Minister, while addressing a 'Samaan Rally' organised at Matour in Kangra Assembly constituency represented by MLA Pawan Kajal to thank Chief Minister for declaring Dharamshala as the second capital of the State, stated that politicizing of issue has reflected the shallow thinking of BJP leaders as the Congress government had shifted Board of School Education to Dharamshala way back in 1984 to Dharamshala and all important offices of Chief Engineers as PWD, IPH, HPSEBL were functioning from Dharamshala. Winter sojourn was started way back in 1994 and the Vidhan Sabha was started from Prayas Bhawan in 2005 before the Vidhan Sabha complex came up, he further added. There was a Municipal Corporation and above all Dharamshala had been declared Smart City of Himachal as well, he said.
Virbhadra Singh termed the statements of the BJP leaders childish, and also surprised about the Shanta Kumar's statement over his announcement. Singh stated
"I am astonished that instead of welcoming this move, even former Chief Minister Shri Shanta Kumar is opposing it though I thought he would have been happy enough"
The Chief Minister said that though the BJP leaders keep boasting of Nationalism but whenever the elections were around the corner, they talk of regionalism to fulfill their self-interest and for their political survival. It was due to instigation of few state BJP leaders that one Union leader was pursuing cases against me, he said. "My single case of income tax was being probed by three investigating agencies, but I know the truth will prevail in the end", added Virbhadra Singh.
He said that now, when few months were remaining for Assembly elections, many leaders for their political survival were adopting cheap tactics to divide the people on basis of region and religion. It was rather disgusting that the BJP leaders could not think beyond the line and still believes in ruling by dividing. "They are to be realised, that dividing never leads to success rather it disintegrates the Nation and the societies", he said adding that for welfare and development of the Nation, we all need to stand united.
The Chief Minister on this occasion also announced a government degree college at Matour and IPH division at Kangra. He announced to give district level status to Dussehra fair of Kangra and upgradation of PHC Tiara to Community Health Centre.