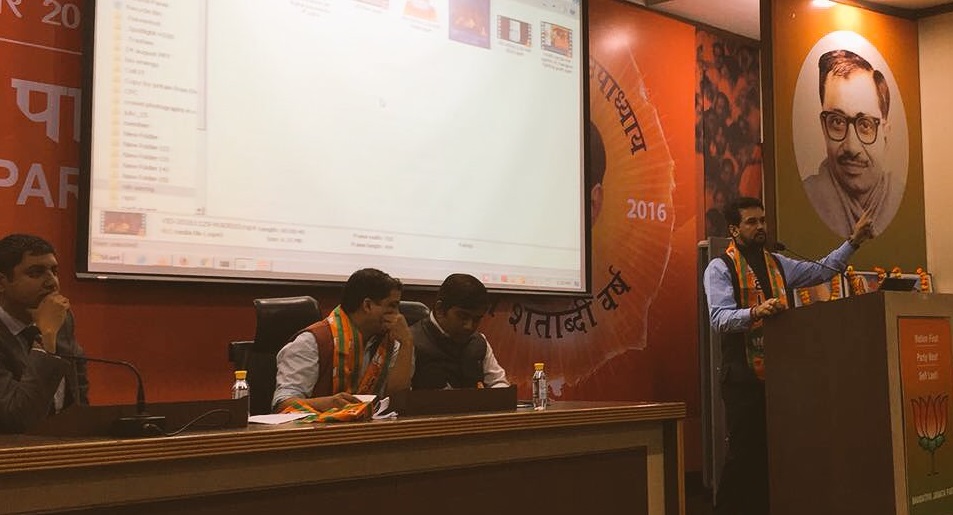 New Delhi: Hamirpur MP and President BJYM, Anurag Thakur today launched DigitalPaisa campaign at BJP Headquarter in New Delhi. As a part of this nationwide campaign, BJYM volunteers will educate people about the benefits of cashless society.
Anurag Thakur, in his address during the launch program welcomed the Prime Minister Narender Modi decision of demonetisation. Encouraging youth to adopt the digital transaction, Thakur said
"Narendra Modi ji has utmost faith in youth of the country and believes that the youth will contribute immensely towards promoting DigitalPaisa – a pro people scheme."
In India presently more than 1 billion people use mobile phones and over 30 crore have smartphones. It is interesting to note that number of mobile phone users is increasing at the faster rate. Additionally, all banks across the country, be it government run, co-operative or private banks, all are offering debit card / credit card to their customers efficiently. Given to these statistics, it should not be challenging to move towards cashless transactions, Thakur added.
Hamirpur MP accepted that demonetisation has caused problem to the common people, and claimed of benefits in coming time. He said
"Under the aegis of Sh. Narendra Modi ji, the country has achieved political freedom, while economic and social freedom was yet to be achieved. This step would definitely move towards significantly reducing the economic and social differences prevalent in the society"