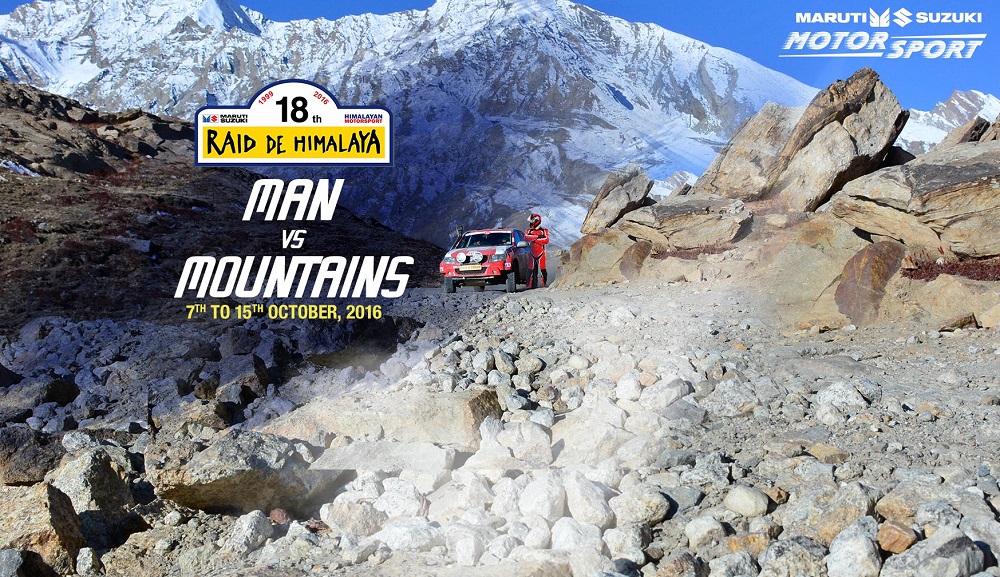 The 18th edition of Maruti Suzuki Raid de Himalaya is all geared up to be held from 8 – 15 October, 2016. Popularly known as the world's highest motorosport event, the Maruti Suzuki Raid de Himalaya will start from Manali and the participants will cover Lahaul, Spiti and Ladakh areas during the nine days long event which will conclude with prize distribution ceremony at Manali.
The Department of Youth Services and Sports, H.P and The Himalayan Motorsports Association, Shimla are co-organising the 18th Raid De Himalaya Rally. The department of Tourism, Jammu & Kashmir is also supporting the event in Ladakh.
As per schedule, the motorsport rally will cover Manali- Gramphoo-Losar-Kaza on 9th October, Kaza-Komic-Dhankar-Kaza on 10th October, Kaza-Sarchu Camp on 11th October, Sarchu Camp-Leh on 12th October, Leh-Sarchu Camp on 13th October, Sarchu Camp-Shingo La- Manali on 14th October and prize distribution ceremony would be held on 15th October, 2016.
The organisers have claimed that this year's rally route will be the most challenging ever, and will also traverse through some of Himachal's most scenic routes on high altitudes.
17th Maruti Suzuki Raid de Himalaya was started in Shimla went through Manali, Dalhousie, Rangdum and ended in Srinagar. 167 participants had participated in the event travelled 1,920 km over six days. Moroever, the 17th edition of the event had also witnessed the highest number of women participants.
Vijay Parmar, President, Himalayan Motorsports Association said that 80 bikers including six lady bikers were expected to participate in the event.