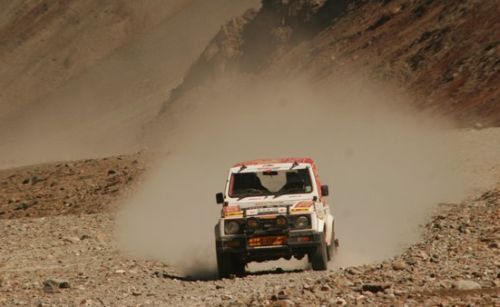 Maruti Suzuki's most endearing and challenging motorsport rally, the 14th Maruti Suzuki Raid-de-Himalaya was flagged off amidst much fervor by Sunila Dhar, Deputy General Manager (Marketing) Maruti Suzuki in the presence of Manjeev Bhalla from Himalayan Motorsports Association.
The competition which is in its 14th year running is fraught with perils and undulating terrains. The Maruti Suzuki Raid-de-Himalaya is the true test of a competitor's dexterity in handling rough roads, uncertain and extreme weather conditions and the strength and endurance of his vehicle. The competition will require the participants to traverse a distance of 1800 kms and will span across 6 days. This year the first competitive leg of the rally will start off from Shimla on 7th Oct 2012 and culminate in Leh on 12th Oct 2012.
This year's Maruti Suzuki Raid-de-Himalaya is offering the ultimate adrenaline rush to around 150 teams with around 260 participants in the four wheeler and two wheeler categories who will brave the inhospitable terrains and weather conditions of the Western Himalayas to compete for the top prize. There are 14 foreigners participating in the rally this year from Austria, Netherlands and UAE. The tough route this year goes through some of the highest motorable passes and human settlements in the world. These include Darcha (3360 mts), Keylong (3440 mts), Leh (3524 mts), Kaza (3650 mts), Dhanka (3894 mts), Losar (4079 mts), Rumtse (4300 mts), Kunzum La (4551 mts), Komik (4587 mts), Pang (4600 mts) & Wari La (5313 mts).
On the occasion, Mayank Pareek, COO (Marketing & Sales), Maruti Suzuki said, "Maruti Suzuki's association with motoring events like Raid-de-Himalaya represents the company's DNA of providing excitement to India's motoring enthusiasts. Through such stimulating motorsports events, the company offers the best driving and sporty experiences to people across gender and age. Be it for a young enthusiast, an amateur or a professional, Maruti Suzuki's motorsports events offer thrill and joy of motorsport to all. It will always be our endeavor to take these experiences a notch higher by organizing various such motorsport events like the Maruti Suzuki Raid-de-Himalaya, Dakshin Dare and Desert Storm. These motorsport activities, in addition to providing rallying thrills, helps the participants to develop a sense of timing, judgment and also an ability to evaluate vehicle handling patterns at given speeds."
This year's event has seen participation of around 260 motoring enthusiasts from all across the country and abroad. These motorists will compete across three categories: X-treme 4-wheelers (50 teams), X-treme 2-wheelers (34 participants) (both Xtreme 2W & 4W categories cater to professional motorsport enthusiasts), and 60 teams in the Adventure Trial category for amateurs. There are 14 foreigners participating in the rally this year from Austria, Netherlands and UAE.
The Maruti Suzuki Raid-de-Himalaya invites participation in three categories: Moto Xtreme, Adventure Trial and Bike Xtreme categories. The participants are grouped in different categories depending upon their prior experience, endurance levels and expertise in handling the escalating difficulty levels. The Moto Xtreme category which is the toughest of the lot is open only to those 4-wheeler drivers who have prior rallying experience and who have competed in one of the earlier editions of the Maruti Suzuki Raid-de-Himalaya. There are 50 teams participating in the Moto Xtreme 4-wheeler category in this year's event.
The Adventure Trial runs on a similar challenging route as that of the Moto Xtreme 4W category and is open to those motorsport enthusiasts, who would like to take on the Himalayas but without the tough competition, difficulty and stress involved in the Moto Xtreme category. Adventure trial section is open only to stock cars and SUVs and only certain safety-related modifications are allowed in the competing cars. In this year's event 60 teams are competing in the Adventure Trial category.
The Bike Xtreme section is open to motorcycles of all types and makes subject to their fulfilling the stipulated regulations. Participants in this category are probably the bravest, as they have to face the hostile weather and tough terrains without the comforts of a cabin surrounding them. The 14th Maruti Suzuki Raid-de-Himalaya will have 34 biker participants.