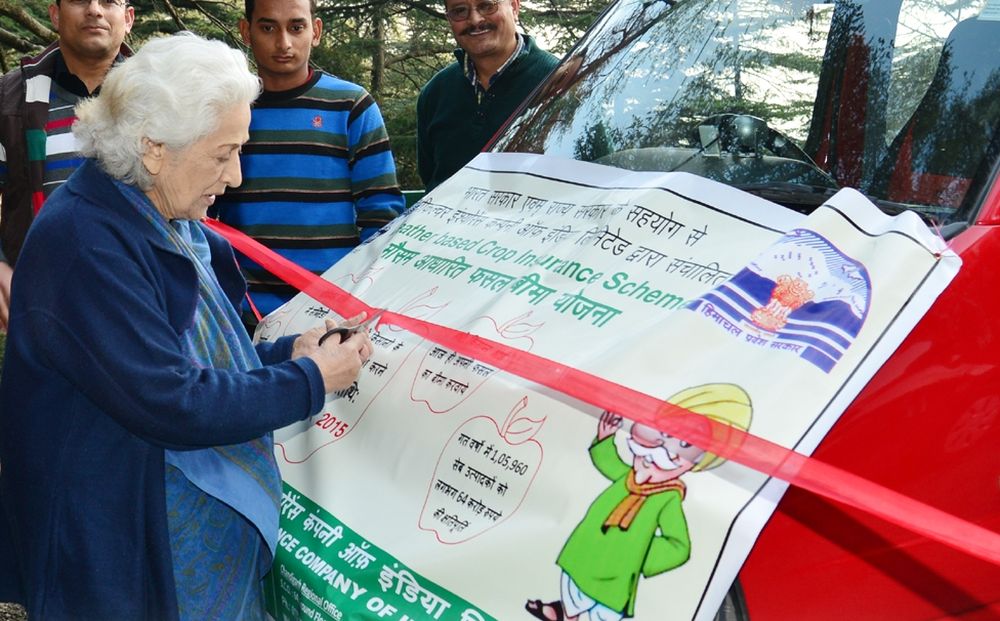 Shimla: Aiming to aware fruits growers and farmers about the Weather-based Crop Insurance Scheme (WBCIS), the horticulture department of the Himachal Pradesh flagged off a van of publicizing the scheme.
The Van is being run by the Indian Agriculture Insurance Company in collaboration with Centre and State Governments, and would provide information regarding the scheme at the doorsteps of horticulturists and would help them to take the benefit of the scheme.
The WBCIS provides insurance coverage and financial support to the farmers in the event of failure of crops due to Adverse Weather Incidence and subsequent crop loss.
Horticulture Minister Vidya Stokes said that State Government was concentrated towards the welfare of fruits growers.
Stokes said that major horticulture crops including apple, mango, kinnow, plum and peach were brought under Fruit Crop Insurance Scheme, and in the latest financial year an amount of Rs. 34.50 crore had been disbursed to the claims of 92,000 farmers for 61,69,865 insured plants.
She said the State Government had reduced the premium amount of fruit insurance scheme from 11.30 percent to 8.9 percent to cover more growers under the ambit of this scheme.
The Minister added that six different companies had been registered under the scheme so that the growers could get the benefit of insurance cover of their choice of company. She said that 74 developments blocks out of 78 had been covered during Rabi season in this financial year.
Stokes said that 17 developmental blocks of Shimla, Kullu and Mandi districts had been covered under the scheme as these blocks were prone to hail storms.