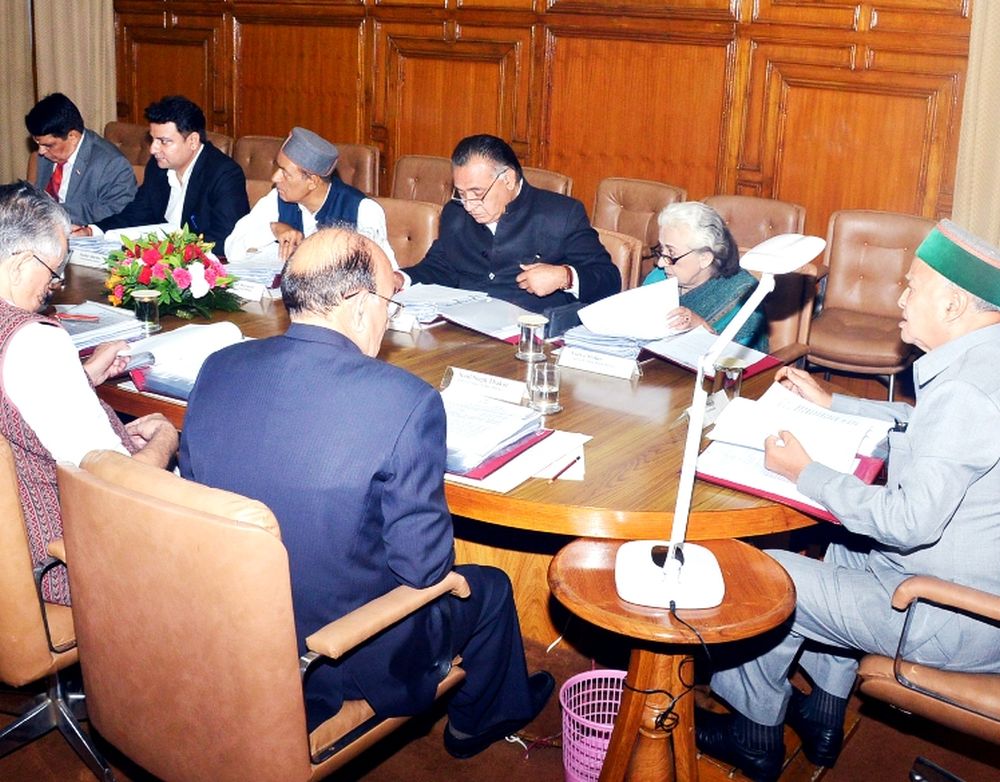 Cabinet gave its approval to fill as many as 250 posts in various departments. It gave nod to create 40 posts of junior officer Assistants (IT) on contract basis in co-operation department besides filling of 40 posts of Inspectors (Audit) on contract basis in each of the next three years i.e. 2015-16, 2016-17 and 2017-18 in the department of co-operation.
Cabinet decided to fill 27 posts of class III in district Kinnaur, and seven vacant posts of Food Safety officers in the department of Health Safety and Regulation.
It accorded approval to fill 16 posts of Junior Engineers in department of Panchayati Raj on contract basis, and decided to create one post of computer operator in Town and Country Planning department, nine posts of junior office assistant (IT) on contract basis in HP Building and Other Construction Workers Welfare Board, and 25 posts of Junior Office Assistant (IT) in Social Justice and Empowerment department.
The cabinet gave nod to create as many as 30 posts in newly upgraded Tehsils which will include posts of Tehsil Welfare Officers, Junior Office Assistants on contract basis and 10 Daily wagers.
It also gave approval to fill one vacant post of Mechanic in Ayurveda department on contract basis and decided to create 50 posts of Multipurpose Workers for Forest Rest Houses/Inspection Huts on contract basis.
Cabinet also accorded approval to open New Industrial Training Institutes (ITI) at Nagrota Bagwan, in district Kangra, Bharari in district Bilaspur, Dodra Kwar in district Shimla, Siari in district Solan, Badressa and Padhar in district Mandi.
The Cabinet also approved constitution of Waqf Tribunal as per Waqf (amendment) Act 2013 and to seek the concurrence of the Chief Justice of High Court for appointing a District and Session Judge as Chairman of the Tribunal.
The Cabinet also approved regularization of Ayurveda Officers appointed on contract basis under Rogi Kalyan Samitis in Ayurveda department.
Other Decisions
The HP Cabinet also accorded its approval for development of ropeway projects in Himachal Pradesh. The main projects approved for development are Neugal (Palampur), Bhunter-Bijli Mahadev, Dharamkot- Triund, Toba-Nainadevi ji, Shahtalai- Deotsidh and Sarahan- Bashal Kanda as per revised RFP document.
The Cabinet also approved Special Purpose Vehicle constituted by the promoter in the name of M/s Manali Ropeway private limited draft concession agreement and the permission to sign agreement with the promoter on the revised project cost as presently proposed Rs 340 crore by the company. It also gave its nod to recover the balance amount of Project Development Success Fee, if any, with interest of 12 percent per annum from the date of signing of concession from the company at the time of submission of final revised Detailed Project Report be approved or not.
The Cabinet also authorized Director Tourism to sign the Palchan-Rohtang Ropeway Project agreement.