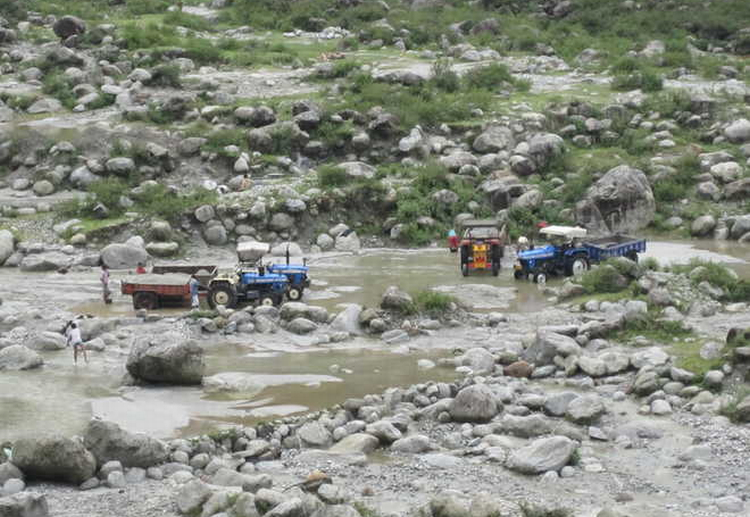 The enforcement of stringent rules and effective steps taken by the state government to check illegal mining in the state has started showing tangible results.
The state government official claimed of registering 16193 cases and recovering Rs. 7.99 crore as fine besides registering 2394 cases in the Courts against the defaulters since January 2013.
The state government has confiscated 20 JCB machines and recovered Rs. 5.75 lakh as fine and 42 other vehicles engaged in illegal mining were also confiscated along-with recovering a fine of Rs. three lakh, official further added.
A state government official said that in order to check illegal mining the state government has repealed 43 years old rules and stringent provisions had been made to check the practice of illegal mining. He said that the Mining Policy was notified in August, 2013 after an interval of ten years by making provision for protection of government property from illegal mining, and provision of fine with imprisonment is also there.
Besides taking tough stance against illegal mining, the state government is also taking initiatives ensuring scientific harnessing of minerals wealth of the state.
The provision had been made to release Letter of Intent for sanctioning mining lease so that mining activities could be undertaken in a proper manner. This had also helped the applicant in getting early forest clearances. So far, Letter of Intent had been released to as many as 120 applicants.
The state government has also constituted the state level forest clearance committee and forest clearances have been given to more than 100 applicants so far. The state level mining advisory committee has also been constituted for the first time in the state under the chairmanship of Industries Minister which will give its suggestions from time to time for scientific mining and checking illegal mining.
Official informed that the time period for auction of the mineral had been enhanced from five years to ten years whereas in the forest area the period had been fixed as 15 years.
He informed that the government earned revenue of Rs. 111.08 crore from minerals during 2013-14 which increased to Rs. 135 crore during last financial year.