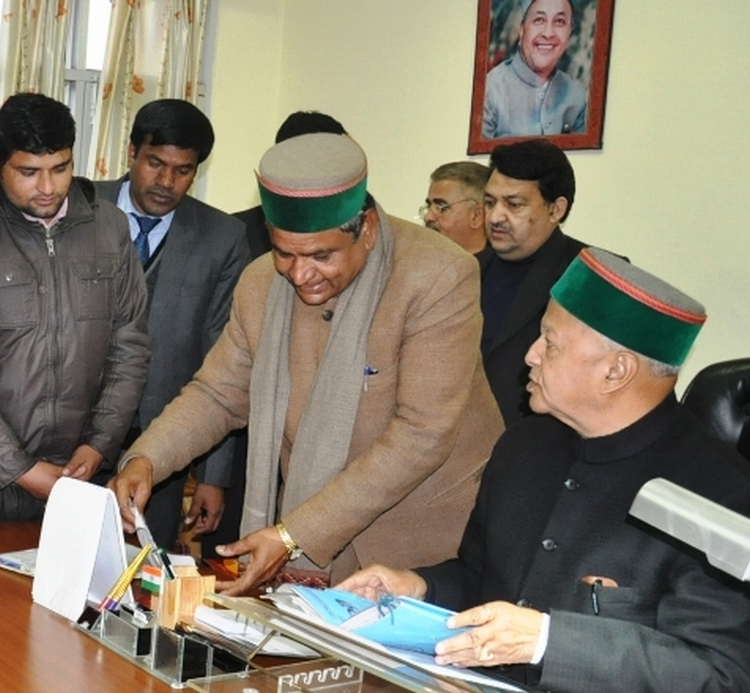 Dharamshala: Chief Minister Virbhadra Singh accused Hamirpur MP Anurag Thakur and Dehra legislature Ravinder Ravi for doing cheap politics for opening of Central University at a particular place.
In an informal talk with media at Dharmshala today, Virbhadra revealed that he had written to Prime Minister Narendra Modi regarding the Central University issue and apprised him about the issue.
Virbhadra Singh accused BJP leaders for favoring particular parliamentary and mooting for a site covered by forest land and also near Ramsar Wetland, where about 150 species of migratory birds visit annually.
The Chief Minister said the Congress considered Himachal as one and will do equal development of the state. He made clear that main campus of the university would be set up in Dharamshala and some other institutes can be opened at other places.
He said that Dharamshala is headquarters of Kangra district and would be beneficial for neighboring Chamba district as well.
Former Union Minister P. Chidambram had announced opening of Central University in Kangra district in 2007 and it stated functioning from 2008 and since then it's been functioning on a makeshift basis from the premises of Language and Culture Department of the state government at Dharamsala and its colleges function at Shahpur in Kangra district.
Even after six years of its functioning, the peoples' representatives of the state have failed to make consensus over its location. BJP pitching for the University campus at Dehra, which falls in Hamirpur parliamentary, while Congress advocating for Dharamshala, in kangra Parliamentary.
In this long period of six years, Central University has wrangled between a political battle, in which both Congress and BJP seem not keen to revert, even for the sake of students and state.