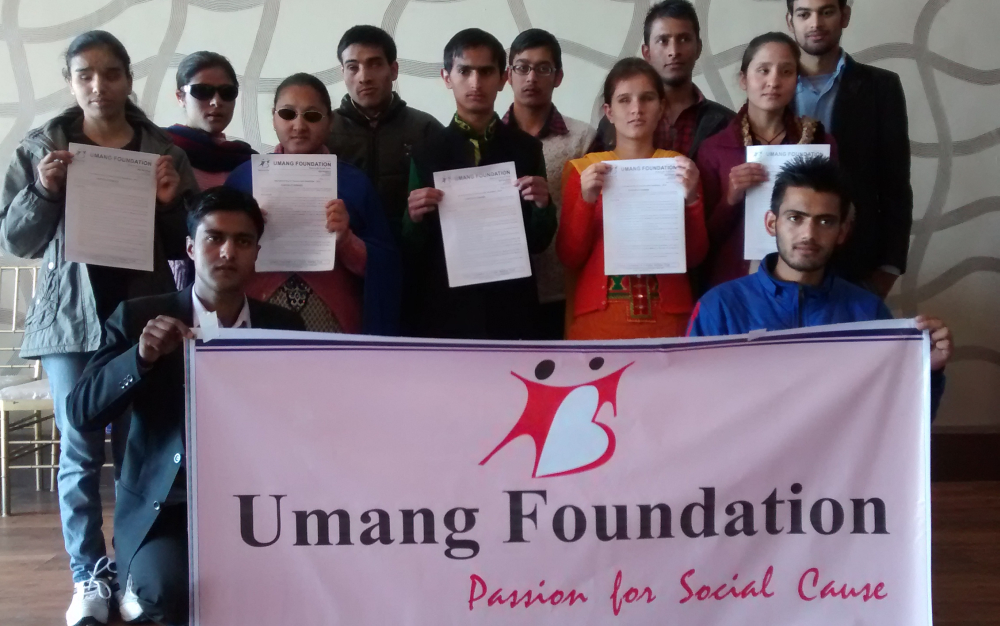 The Umang Foundation has blamed the state government for not complying with the orders of the Supreme Court of India.
In a programme, organized here on the eve of International Day for Persons with Disabilities today, visually impaired students associated with the Foundation released a 36 point Charter of Demand on disability, that has mainly focused upon the implementation of Disability Laws, free inclusive education, employment opportunities, free health care, barrier free environment and non- discrimination.
Ajai Srivastava, Chairman of Umang Foundation, said that the apex court had on 26th March, 2014, indicted states including Himachal Pradesh for not implementing the Disability Act and ordered for strict compliance by the end of this year. But no serious effort was made by the state government to implement the Persons with Disability Act, 1995, till now, he claimed.
Srivastava said that in the State Policy for Persons with Disability- 2010, the government made a commitment to provide free education to the disabled students up to university level including vocational and professional courses. However, nothing has been done in this direction, he rued. He urged the government to provide them with free education with boarding and lodging, and assistive & educational devices including laptops. He emphasised on earmarking 3 percent share for the disabled in every sphere of education including reservation of seats, hostel, library and sports. Libraries should be equipped with digital books. Separate syllabi should be designed for the children with intellectual disability.
The Umang Foundation has demanded to ensure 3 percent reservation in jobs, in-service computer training for the blind and deaf employees, allotment of kiosks and shops to mentally retarded persons and 3 percent share in budget in all poverty alleviation schemes for the disabled. Demands to start an Eye Bank in Tanda Medical College, eye collection centres in every district to give sight to more corneal blind persons and free medical facility for all the disabled have peen put in the charter.
The charter of demands, foundation also demanded to establish modern old age homes in major cities, residential vocational training centres for the disabled, barrier free public transport and public buildings, and non discrimination with the disabled of other states living in Himachal.
Ajai Srivastava said since all the issues raised in the charter of demands were of great importance for the disabled and non compliance of the orders of the Supreme Court was a serious matter. He urged the chief minister to take immediate action to ensure justice to the disabled.