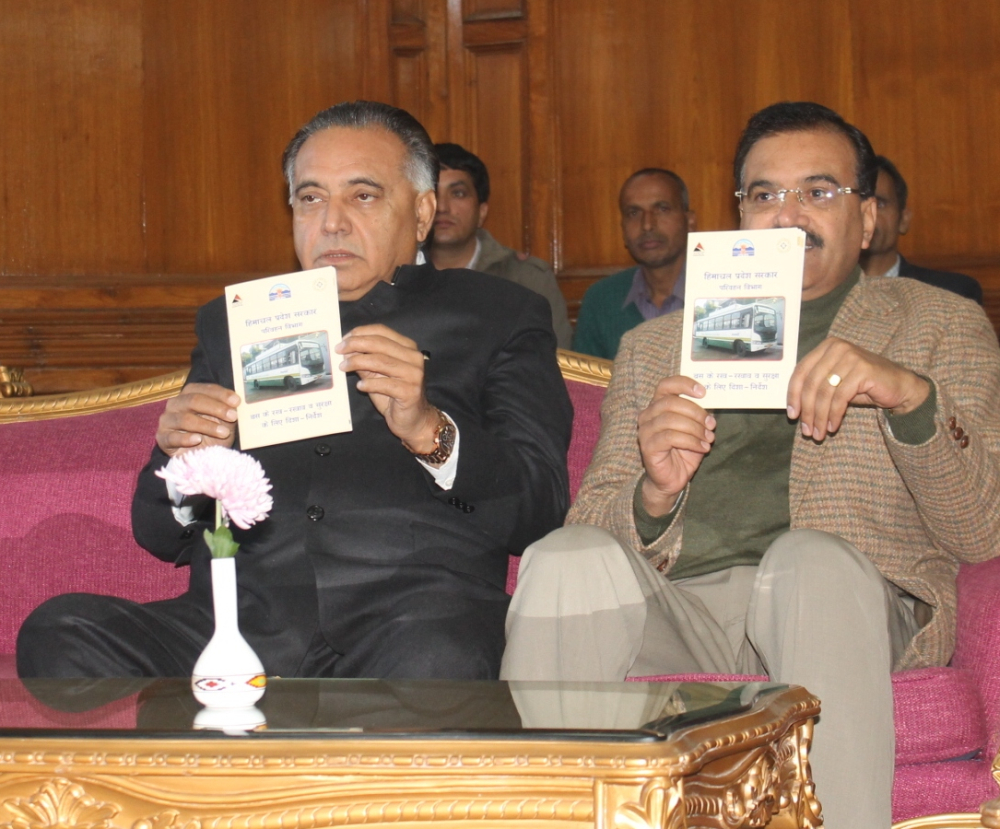 With a view to provide safe, comfortable and modernised transport facility to the commuters of the State as well as tourists, the Himachal Government has introduced a new Transport Policy-2014. The new policy has been framed keeping in view that roads are the main source of transportation in the State.
The policy is aiming to provide transportation facilities with high standards of comfort and safety. The focus will be on the equity considerations to provide luxury travel to commuters on affordable fares while simultaneously achieving a modal shift from private to the public transport. It will also promote quality goods transportation infrastructure at reasonable cost with ability to handle high value cargo at shortest time and at minimal externalities like congestion, pollution and accidents.
Road safety has been given special thrust. The Department of Transport will be renamed as Road Safety and Transport. All Drivers of stage carriage buses will be empanelled. Drivers will be parted training on yearly basis and 300 new buses would be added to the fleet every year. Collection of accidental data will be done with the help of Police and compounding of offences related to overloading in stage carriage vehicles will now be with Regional Transport Authority.
The policy of 60:40 ratios will be followed in the formation of new routes and the priority in allocation of permits will be given to women, cooperative societies, unemployed people and ex-servicemen. The initiatives in this segment are a process of identification of roads, where either no services have been provided or are under served will be done and an assessment of routes where the problem of overloading exists will be completed within the next six months. Route planning exercise using the latest techniques used internationally will be done to rationalize the operation of buses.
In order to ensure timely service delivery, latest Information Technology tools including vehicle tracking devices in both public and private sectors will be encouraged besides adopting seamless and cashless travel facility.
Latest luxury vehicles will be introduced with high tech comfort and safety features to cater to the requirements of the tourist's. Radio taxi services will also be started in major tourist towns to facilitate local exploration. The Policy also envisages all educational institutions to acquire their buses for transportation of students and faculties. All activities of the Transport Department will be made online and software will facilitate 24×7 payments of taxes and fees by the operators to save their time.
Besides ensuring women security, emphasis will be on providing clean toilets, waiting rooms and child care facilities at all major bus stands of the State. Fifty percent seats will be reserved for ladies in all local buses and bus stops will be fitted with CCTV cameras to ensure round the clock surveillance. To ensure women participation in transport planning, one women member will be appointed in STA and BoD of HRTC. Due care will also be given to provide transport service to the under-served areas of SC, ST and OBC's concerted area and tax incentives will also be given to make the operations viable in these areas.
Bus Stands would be provided with passenger amenities like booking counters and office accommodation, separate waiting rooms for ladies and gents, rest rooms for drivers, provision of ATM and shops. All bus stands to be constructed in the State will have a separate public parking facility at the basement on out-sourcing basis. Bus Stands will be developed on PPP basis and priority will be given to entrepreneurs of the State.
Being cheaper and environment friendly, water transport would be encouraged and comprehensive study will be carried out to explore the feasibility of using water transport as a medium for goods transportation. Alternative mode of transport like cable cars, trams and waterways mainly in Govindsagar, Maharana Pratap Sagar and Kol Dam will be provided and offered to the private sector for investment.
State Government believes that time has come when the HRTC could strive for a brand image that clearly presents their services as a modern, efficient, reliable, convenient, comfortable and safe transport. Under the Transport Policy-2014 which was finalised on 25th November, 2014 the endeavour would be to encourage the people to keep their cars parked in their home and prefer bus services for routine travelling.