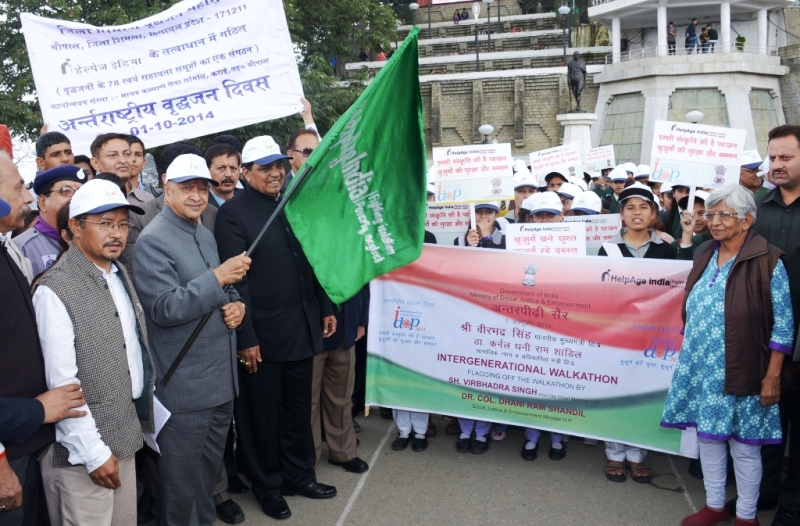 Chief Minister Virbhadra Singh gave clarion call to the younger generation to respect and serve the elderly as their blessings and experiences pave the way for prosperity and discipline in life.
The Chief Minister was speaking at the function organized on 'International Day of Older Persons' by the Social Justice and Empowerment Department in association with Help Age India an NGO, at the Ridge here today. The very purpose of celebrating this day was to pay regard and respect to our elders and help them solve their grievances.
Virbhadra Singh advised to follow the ideals of Gurus, Saints and rulers who deeply regarded their elders. We should learn from the vast experiences of the elders as they could show the right path and also contribute immensely in enlightening the society in a constructive manner because of their long experience of life.
He said that the successive Congress Governments had always taken catered to the interest of elders and various schemes had been framed to ensure their welfare. He said that Himachal Pradesh was the first State in the country to implement 'Parents Maintenance Act' which was later followed by various States. Under the Act, stringent provisions had been made to motivate and ensure the children to take care of their parents.
The Chief Minister said that State Government had enhanced the social security pension of elders in the age group of 61 to 79 years to Rs. 550 per month those above 80 years, were being provided Rs. 1000 per month irrespective of their income limit.
Chief Minister also administered the oath pertaining to security and dignity of the elders on the occasion.
Later, Chief Minister flagged off Inter-Generational Walkathon of elderly people.
Social Justice and Empowerment Minister Dr. (Col.) Dhani Ram Shandil while welcoming the Chief Minister and old citizens said that the State Government had formulated various welfare schemes for the elders. The Government was providing social security pension to as many as 1,79,421 old persons. The Government was also providing grant in aid for running four old age homes in the State under an Integrated Scheme for older persons. The elders residing in old age homes were being provided free shelter, food and medical facilities.
He said that the State Government was also providing financial assistance to NGOs for running day care centres for elders and helpline and counseling centres in the State.
The artists of the Information and Public Relations Department presented a skit based on importance of elders.
P.C. Dhiman, Principal Secretary, Social Justice and Empowerment, Dinesh Malhotra, Deputy Commissioner, M.P. Sood, Special Secretary, Social Justice and Empowerment, Sharabh Negi, Director, SC, OBC and Minority Affairs, children of various schools were present on the occasion amongst others.