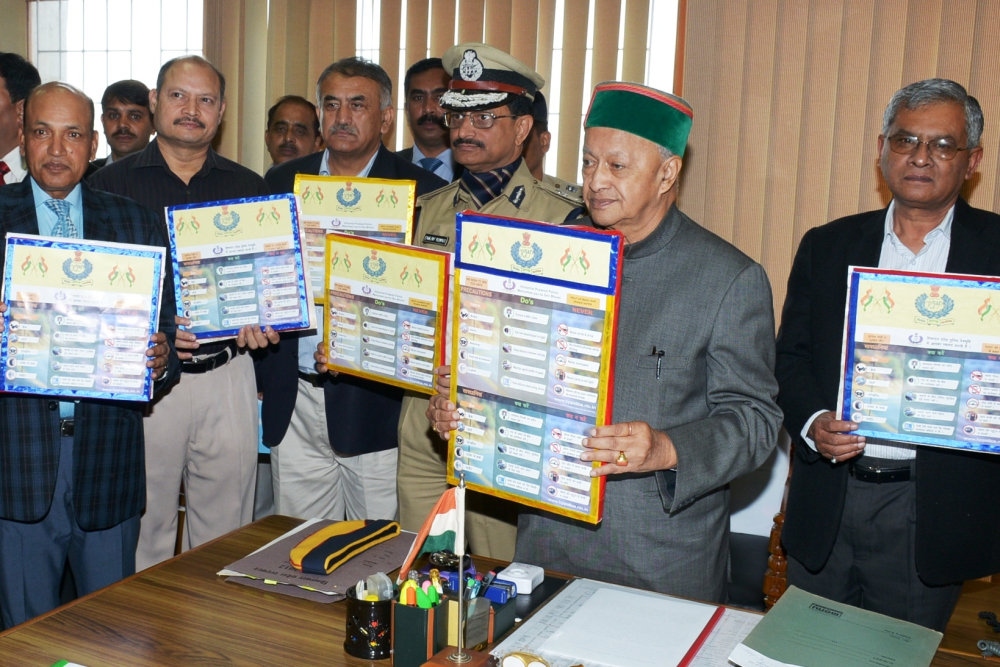 The State police department has come out with a traffic safety pamphlet carrying slogan "Surkshit Padharein, Surkshit lautein", (come safe and go safe), with a view to spread awareness about the traffic rules and regulations particularly targeting the visitors from other parts of the country visiting Himachal Pradesh during the festive season of Navratris and Dussehra.
Chief Minster Virbhadra Singh released the Traffic Safety Pamphlet here today and said that the awareness drive would help in reducing accidents. Chief Minister asked police department to ensure to distribute these pamphlets to the visitors at all entry points of the districts and State so that the motorists can be made aware of the precaution to be taken while driving in the hills.
He said that the police can contribute a lot in reducing the road mishaps and can put an end to the drunken driving. Maximum accidents were due to rash, drunken and negligent driving besides use of mobile phones while driving was also a cause of mishaps. He said that such traffic rules violators should be brought to book so that an example could be set for others. He said
"The State Government is serious to force the traffic rules stringently so that the road accidents may be reduced"
Chief Minister also appreciated the efforts of the Police department for carrying out the State wide survey in all thirteen police districts covering all roads including National Highways. He further added
"A small measure can save many precious lives and the police and other line departments must ensure that overcrowding and over-speeding are regularly monitored"
Meanwhile, Director General of Police Sanjay Kumar informed the Chief Minster of various measures being adopted by the department to curtail the road accidents and briefed about the measures being taken to curtail them.
DGP further apprised Chief Minister that in order to scientifically collect and compile data about road accidents an elaborate 'Road Accident Data Management System' was likely to be introduced soon with the assistance of the World Bank, together with PWD, Transport and Health departments.
He said sophisticated tablets would be provided to the police stations and all police posts to handle the mishaps cases effectively and immediately.
Sanjay Kumar said that an Accident Data Management Cell would also be made operational from next week at Police Headquarters, Shimla which would also be linked with all police posts and police stations so that corrective measure could be taken for prevention of accidents.
The senior officers of Police department were present on the occasion amongst senior officers of the State Government.