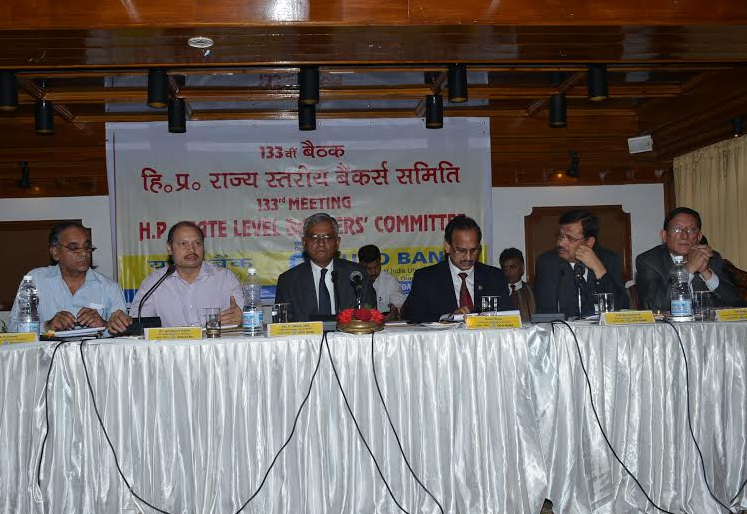 Chief Secretary P. Mitra complimented the banks for opening 1, 92,500 accounts within a week under Pradhan Mantri Jan Dhan Yojna (PMJDY) in the State. He said that bankers should aim to open bank account of all left out households both in urban and rural areas of the State before the end of October this year.
P. Mitra, while presiding over H.P. State level Bankers Committee (SLBC) meeting here today, said that Himachal Pradesh was well placed in banking sector as economy and education of the people was quite good as compared to other States. He said that in Himachal Pradesh there was 3757 per branch population against national average of above 13000 having high proportion of 89 percent of households availing banking services.
Chief Secretary said that still there was a need of greater participation by financial sector to increase usage of basic banking services through technology enabled services, innovation of products and services.
P. Mitra said that the credit growth during the first quarter of current fiscal was 20.15 percent as compared to deposit growth of 12.23 percent which has helped in improved Credit Deposit (CD) ratio. He said that the national parameters set by Reserve Bank of India (RBI) for financing to priority sector, agriculture sector, weaker section and women were achieved by the banks except Differential Rate of Interest (DRI). He said that banks should open branches in unbanked areas as out of 16 branches opened during the first quarter only 6 branches were opened in unbanked areas.
He said that all the sponsoring agencies and departments should sponsor 150% to 200 percent loan proposals under different government sponsored programmes and schemes to the banks as the performance were not upto the mark in this area. He said that banks should provide liberal funding in the rural areas as there was vast scope of development in agriculture and allied activities in the State.
Principal Secretary, Finance Dr. Shrikant Baldi said that State Government would provide all assistance to achieve the allocated targets of the banks. He said that State Government would also coordinate in improving recovery performance of the banks and Joint Sub Committee of Government officers and bankers could be formed, if needed.
Chairman and Managing Director, UCO Bank Arun Kaul said that the outreach of banking services in the State was one of the best in the country and under the new PMJDY scheme; banks were identifying the left out households to achieve the cent percent target. He sought the help of State Government to improve the recovery performance of banks which was recorded 71.33 percent upto June last.
General Manager, UCO Bank and Convenor, SLBC V.K. Shrivastva while welcoming the Chief Guest highlighted the performances of various banks during first quarter.
Principal Secretary, Social Justice and Empowerment P.C. Dhiman, Special Secretary Finance Amandeep Garg, Director, Rural Development and Panchayati Raj R. Selvam, Regional Director, RBI I.S. Negi, Chief General Manager NABARD K.P. Chand, senior executives from banks and senior officers of the State Government participated in the meeting.