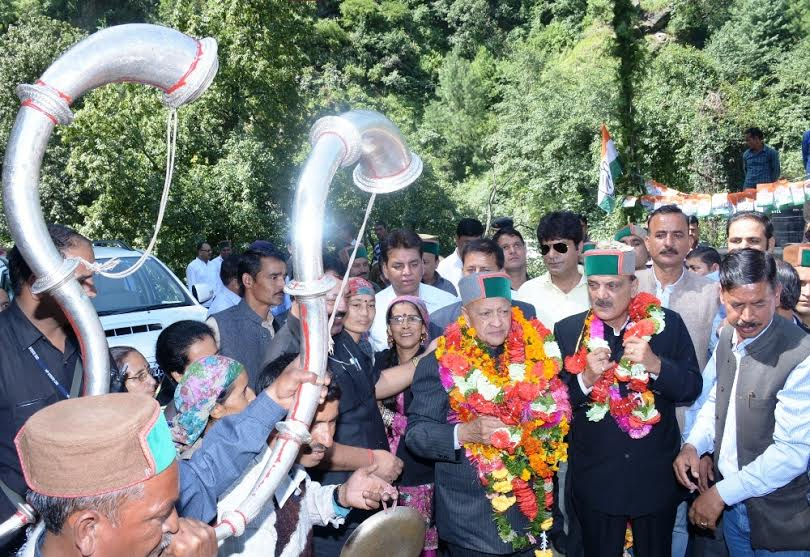 Himachal Pradesh Chief Minister Virbhadra Singh has accused the Opposition BJP for dividing the people of the State on the basis of caste, colour and region.
He said it while speaking at the closing ceremony of Rajmata Shanti Devi under-19 district level Boys school sports Tournament at Senior Secondary School, Taklech in Rampur Subdivision of District Shimla.
In his address, CM blamed opposition for not playing a constructive role and regular walkouts and hullabaloo during the Vidhan Sabha sessions had become a routine affair, which affects the development policies.
Chief Minister rued that the opposition always abstained from attending the Vidhan Sabha Sessions and discussing the issues of development. He added that it causes delay in taking important issues.
He also accused the BJP for politicizing sports and making unnecessary hullabaloo over the petty issues. He said
Sports should not be politicized but few people and politicians in the State committed many irregularities in the name of Sports under the garb of Cricket Associations, which won't be allowed in our state. No body would be allowed to play with the future of our sports-person or budding players of the State in any game may it be cricket, hockey or any other game and the guilty would be brought to the book.
The Chief Minister cautioned that no one in the State will be allowed to play with sentiments of players by forming fraudulent companies or organizations which beats the true spirit of the games, if formed for self gains.
Chairman Kailash Federation Brij Lal, Vice-Chairman HPSIDC Atul Sharma, Deputy Commissioner Dinesh Malhotra, Superintendent of Police, D.W Negi and other senior officers of the district were also present on the occasion amongst others.