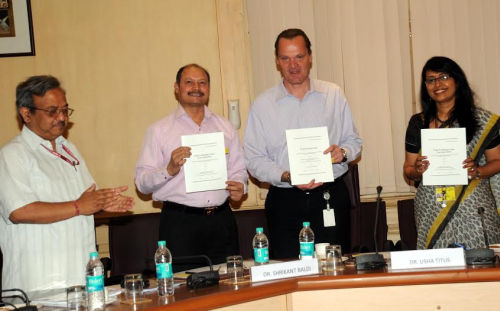 For promoting inclusive green growth and sustainable development in the Himachal Pradesh, the World Bank has approved Rs.550 Crore project. A credit agreement for this project was signed between the Government of India, the World Bank and the Government of Himachal Pradesh today at New Delhi.
The agreement was signed by Usha Titus, Joint Secretary, Department of Economic Affairs on behalf of Government of India, Dr. Shrikant Baldi, Principal Secretary (Finance), on behalf of the Government of Himachal Pradesh and Onno Ruhl, World Bank Country Director in India, on behalf of the World Bank.
Himachal Pradesh has become the first State of the country to get this ambitious project World Bank. The Project will be financed by the Clean Technology Fund (CTF) of the World Bank to Govt. of India and the loan proceeds will be transferred to Himachal government as per the guidelines for transfer of External Assistance to Special Category on 90% grant and 10 % loan basis.
Underlining the importance of this project, Onno Ruhl said that the main objective was to support Himachal Pradesh in its initiatives of paradigm shift towards an environmentally sustainable model of economic growth by promoting improved management of its natural resources and inclusive green growth. He said that the Clean Technology Fund was a soft loan that had a 40 year maturity period including a ten year grace period. He also praised the efforts of Himachal Govt. for effectively implementing various World Bank funded projects.
While congratulating the Himachal government for getting this first of its kind project in the country, Usha Titus said that the concept of inclusive green growth was one of key agenda and needed greater focus in the changed scenario of global warming. She appreciated the efforts of Himachal Pradesh for successfully implementing the first Development policy Loan (DPL) project of equal amount approved in September, 2012 for reconstruction and development resources. She expressed hope that this 2nd operation project would certainly help Himachal to bring in better policies and practices to guide the development of sustainable hydropower, adapt and mitigate the effects of climate change, empower local communities to conserve their watersheds better and promote environmentally sustainable tourism activities in the State.
Dr. Shrikant Baldi, Principal Secretary (Finance), Govt. of Himachal thanked the Govt. of India and the World Bank for selecting Himachal Pradesh for this project and assured the team of World Bank that the state Govt. and the people of Himachal Pradesh would jointly put concerted efforts to implement this project in a successful manner.
Pyush Dogra, Senior Environmental Specialist and World Bank's Task Team Leader for this programme said that the project would go a long way in helping Himachal Pradesh to demonstrate a more sustainable path to economic development. The success of the project would set an example not only for other Himalayan States but also for other countries in the South Asian region.
Devashish Prusty Director, Ministry of Economic Affairs, Brijesh Pandey, Deputy Secretary, Department of Economic Affairs, Dr.Sharad Negi, Director, Department of Environment Science and Technology Govt. of Himachal Pradesh and other Senior Members of World Bank Team were also present on the occasion.