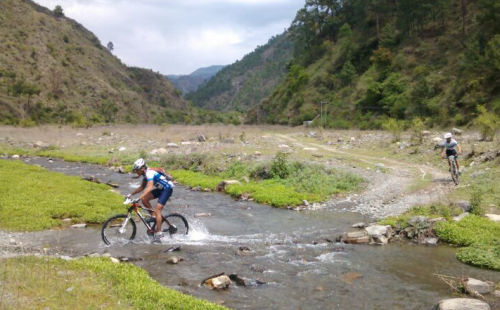 The third edition of MTB Himalaya, Shimla, kicked off from Hotel Holiday Home Shimla. GOC-in-chief of ARTRAC Lieut Gen BS Sachar flagged off the rally by riding a bicycle here today.
About 64 riders, including six women from four countries-England, the UAE, Scotland and India-are participating in the two-day event.
The race comprises a competitive ride of 43 km traversing through six water streams in the riverbed section and loose gravel surface in the off-road sections from Shimla en route Anandpur, Duglanala, Junga, Janedghat to Chail at an elevation of 1,300 m.
As of the timings reported during the day, Rider Devender was leading the race closely followed by Kiran in the Solo Men Category. Woman rider Vamini was leading in the Solo Women Category and Shiven leading in the Student Category.
Mohit Sood, Founder of Himalayan Adventure Sports and Tourism Promotion Association (HASTPA), Ashish Sood, spokesperson, Rajesh Kalra, the Chief Editor of Times Internet and founder of Pedal Yatri, Gaurav Matta, marketing manager at UT Bikes were present at the occasion.