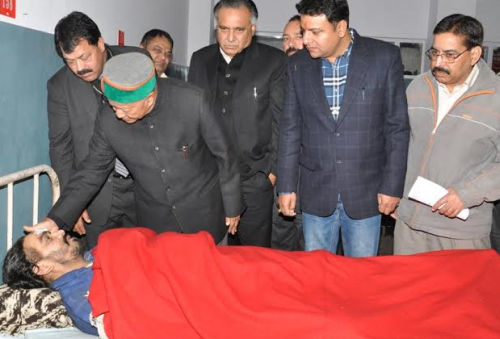 Dharamshala: An ill fated private bus met with an accident at Kunal Pathari near Dharamshala in Kangra district. Two persons were reportedly died in the accident and 29 other were reported sustained injuries.
Governor Urmila Singh and Chief Minister Virbhadra Singh have expressed deep grief over accident. Virbhadra Singh, who is in Dharamshala for attending Vidhan Sabha session, rushed to the Zonal Hospital, Dharamshala to enquire the well being of the injured immediately. He directed the hospital administration to provide all possible assistance for the treatment of the injured. He wished speedy recovery to all the injured. Chief Minister has ordered an inquiry into the bus mishap.
Transport Minister G.S. Bali, Urban Development Minister Sudhir Sharma, Chairman, Kangra Central Cooperative Bank Jagdish Sipahiya and Ex MLA Surender Kaku also reached the hospital to meet the injured persons.
GS Bali said that the dependents of the deceased would be provided financial assistance of Rs. 1.50 lakh each while Rs. 10,000 each would be provided to the seriously injured person while Rs. 5,000 each to other injured. He said that all the injured would be provided medicines free of cost and government would also bear the expenditure on their treatment.
Vidya Stokes Irrigation & Public Health Minister, Kaul Singh Thakur Health & Family Welfare Minister, Sujan Singh Pathania MPP & Power Minister, Thakur Singh Bharmouri Forest Minister, Mukesh Agnihotri Industry Minister, Prakash Chaudhary, Excise and Taxation Minister, Dr. Col. Dhani Ram Shandil Social Justice & Empowerment Minister, Anil Kumar Rural Development Minister, Neeraj Bharti, Rajesh Dharmani, Vinay Kumar, Jagjivan Paul, Nand Lal, Rohit Thakur, Sohan Lal Thakur, Inder Dutt Lakhanpal and Mansa Ram, Chief Parliamentary Secretaries have also expressed grief over the bus accident.