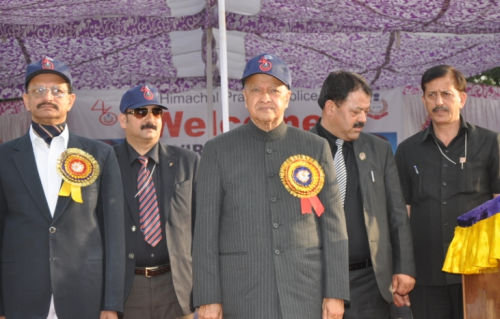 Dharamsala: Chief Minister Virbhadra Singh said that State Government was committed to promote sports activities and provide best infrastructural facilities to the sportspersons. The Government had taken various initiatives to develop stadiums and promote sports culture so that the sports person could excel themselves at National and International level.
He was speaking at the closing ceremony of three-day long 46th HP Police Sports and duty meet at Police Ground Dharamsala today.
He said that police personnel work hard to maintain law and order and such events not only provide them an opportunity for recreation but also a platform to exhibit their talent and such events help in personality development along with instilling the spirit of discipline and tolerance in them. He said that Police personnel had brought laurels to the state in National an International event.
Virbhadra Singh said that this annual sports meet was organized after the long gap of eight years which should be a regular feature from now onwards. He announced a financial grant of Rs. 15 lacs per year to the Police Department to organize Police sports meet regularly. He said that Dharamsala had emerged as a favourite tourist destination and directed the department for construction of a Tourist Information centre by using pre-fabricated structure technique. He announced Rs. 65 lacs for the construction of separate building at SP complex for registration of Tibetan and foreign tourists. He also announced Rs. 15lacs for water supply scheme for police line Dharamshala, Rs. 15 lacs for the repair of Police Station, Dharamshala, Rs. five lac for the repair of Police Station Indora. He said that govt. was contemplating to increase the ration money of police personnel.
Chief Minister also distributed prizes to the winners of various sports events. Constable Dinesh Kumar was awarded with best performance trophy and overall best performance award was given to Southern Range.
DGP Sanjay Kumar welcomed the Chief Minister and detailed about the various events organized during the sports meet.
Earlier, Chief Minister, Virbhadra Singh presided over annual function of Himachal and Punjab Gorakha Association. Speaking on the occasion, Chief Minister said that Gorakha community had contributed for the enrichment of our rich traditions. He said that State Government had constituted Gorakha Kalyan Board for the welfare and development of Gorakha community in the State.
Chief Minister announced Rs. 50 lakh for construction of Sarai Bhawan at Shyamnagar, Dharamshala on the occasion. Virbhadra Singh also released souvenir on the occasion.
Capt. Sarvan Kumar Thapa, President, Gorakha Vikas Parishad welcomed the Chief Minister. Bhupender Singh Gurang, Chairman, Himachal Pradesh Gorakha Association, Bhagsu, Dharamshala also spoke on the occasion.
G.S. Bali, Transport Minister, Sudhir Sharma, Urban Development Minister, Sanjay Rattan, Ajay Mahajan, Manohar Dhiman, Pawan Kajal, MLAs, Prof. Chander Kumar, former MP, Jagdish Sipahiya, Chairman, Kangra Cooperative Bank, Kewal Singh Pathania, Vice Chairman, H.P. Forest Development Corporation, Bodh Raj, Surender Kaku, former MLAs, Furkan Umar, Vice Chancellor, Central University Kangra, Prithvi Raj, ADGP, Vigilance, Rakesh Agarwal, IG, Northern Range and Organising Secretary were also present on the occasion.