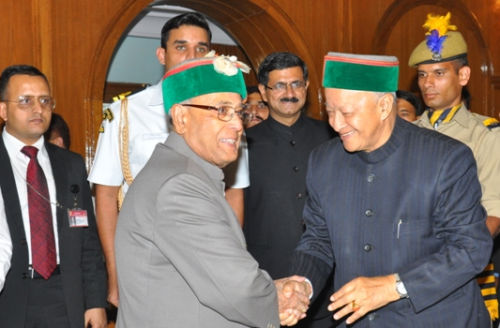 Chief Minister Virbhadra Singh submitted a memorandum to the President of India Pranab Mukherjee, pertaining to unfavourable award of 13th Finance Commission, which recommended an overall increase of only 50 percent for Himachal Pradesh while the other States were given an average increase of 126 percent, thus causing financial hardships to the State.
The Chief Minister was accompanied by Irrigation and Public Health Minister Vidya Stokes, Forests Minister Thakur Singh Bharmouri, Industries Minister Mukesh Agnihotri and Urban Development Minister Sudhir Sharma.
Chief Minister said that had the 13th Finance Commission recommended grants at par with other States, the State would have been entitled to receive additional share of Rs. 10,725 crore from the period 2010 to 2015. He said that the Commission underestimated committed liabilities on account of salary, interest and pension payments. He urged the President for providing Special Plan Assistance to tide over financial problems.
Virbhadra Singh said that there should be uniformity in funding pattern amongst Special Category States. He said that Himachal Pradesh should be treated at par with other Special Category States and funding under centrally sponsored schemes should be in the ratio 90:10 respectively by Government of India and State Government. He also urged for restoration of Industrial Package for the State as the withdrawal of Industrial Package had hindered the industrial growth.
Stressing on extension on railways, the Chief Minister said that the Bilaspur-Leh via Manali rail line be declared as Project of National Importance adding that since independence only 44 kilometres of rail lines had been added in the State and there was urgent need of railway extension as the entire burden of goods and passengers traffic is borne by road transport. He also urged for speeding up the work on Nangal-Talwara rail line and broad gauging of Pathankot-Jogindernagar rail link. Besides, the Chief Minister also stressed for conducting survey on Baddi-Chandigarh rail link in view of its economic importance.
Virbhadra Singh said that the Hon'ble Supreme Court had accepted the State's claim on BBMB project and directed the GoI to file calculations on long standing claim of Himachal Pradesh which amounts to Rs. 4250 crore to be released at the earliest. Besides he urged for expediting assent of President of India on Himachal Pradesh Electricity (Taxation on Generation) Act, 2011 to enable the State to mobilize additional resources.