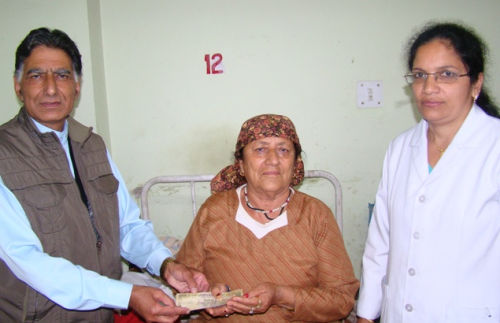 Finally administration dole out some help for renowned Himachali Folk Singer Basanti Devi, who's getting treatment for acute knee pain in Regional Ayurvedic Hospital, Chhota Shimla for the last one week, as Shimla District administration has released a sum of Rs.4000/- from Red cross as medical help to her. Folk Singer Basanti Devi thanked DC Shimla for this help.
The help was sanctioned on the request letter submitted by S.R Harnot, eminent writer and social worker and Chairman of Himalaya Sahitya Avam Sanskriti Manch.
It is pertinent to mention here that this poor 69 years old folk artist had not only lost her husband seven years back but now for the last 5-6 months she is not getting her Artist Pension from Himachal Art, Language and Culture Academy of Himachal. the negligible amount of Rs.500/- peer month, she is getting, has suddenly came into controversy by the academy that she is also taking widow pension and thus the second pension can not be given. It is strange enough that a folk artist who has devoted 50 years of her life to keep rare folk songs of Himachal alive and thousands of people have listened her traditional voice over the decades, has now been deprived of Rs.500 per month pension.
Harnot urged the Chief Minister, HP who's also The Chairman of Academy that such Artists who are getting very negligible amount of Old age and widow pension, should rightly be considered for Artist Pension as this is a great honour for them and also help too for heir contribution.