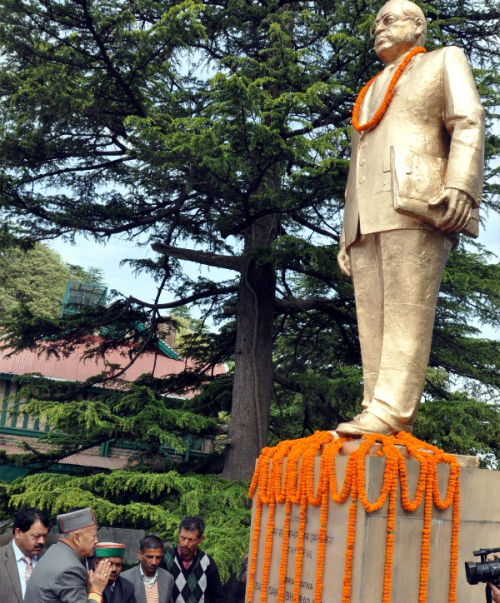 Himachal Pradesh, today remembered Bharat Ratan Baba Saheb Bhim Rao Ambedkar, the architect of Indian Constitution, on his 122nd birth anniversary at a State level function organised here in Shimla. Chief Minister Virbhadra Singh paid rich tributes to him and paid floral tributes by garlanding the Statue of Dr. Bhim Rao Ambedkar at Ambedkar Chowk, Choura Maidan.
Speaking on the occasion, Virbhadra Singh said that known as father of the Indian Constitution and 'Messiaha' of poor and downtrodden, Baba Saheb always fought for equal rights not only to 'Dalits' but also women folk. He said that Baba Saheb was among top leaders of his time and his contribution to the Nation was well acclaimed. Earlier, Chief Minister also released a calendar of Baba Sahib brought out by Baba Saheb Ambedkar Welfare Society, Shimla.
The others who followed the Chief Minister in paying floral tributes were Karan Singh and Suresh Bhardwaj, MLAs, Former Minister Singhi Ram, Mayor Sanjay Chauhan, Vice Chairman, H.P State Cooperative Bank Harsh Mahajan, Former MLA Rakesh Singha, Former Mayors Sohan Lal, Jeny Prem and Madhu Sood and councillors of Municipal Corporation Shimla, Deputy Commissioner Dinesh Malhotra, Commissioner, M.C Shimla Amarjeet Singh, President, Baba Saheb Ambedkar Welfare Society, Shimla Pritpal Singh Mattu and other officers and prominent people of the town along-with school children.