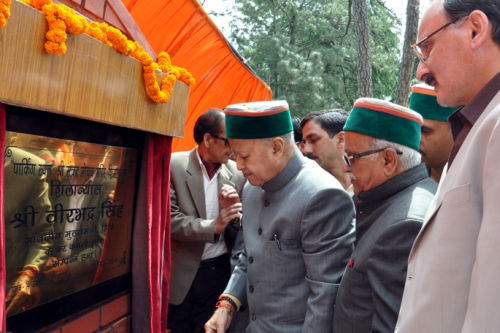 Chief Minister Virbhadra Singh today laid foundation stones of parking lot, kirtan bhawan, meditation centres and entry gates at Sankat Mochan Temple at Shimla.
Speaking on the occasion, Chief Minister said that a large number of people visit different religious places of the State every year and government was endeavoring to provide them best facilities. He said that apart from being a prominent tourist town, Shimla was also famous as religious destination and effective steps were being taken for beautification and creation of more amenities at various temples.
Virbhadra Singh said that parking lot to be constructed at a cost of Rs 80 lakh at Sankat Moachan temple would provide parking facility for about 150 vehicles. This would help in providing ample parking facility to the people visiting the temple. He said that a Kirtan Bahwan with a capacity to accommodate about 250 people would be constructed by spending Rs.75 lakh.
He also laid foundation stones of five meditation huts in the temple complex to be constructed at a cost of Rs 35 lakh. Two entry gates one at main entry and another at temple entry would also be constructed which would be barrier free. He appreciated the efforts of Temple Trust for creating various amenities in the temple complex.
Chief Minister also paid obeisance at Sankat Mochan temple. Deputy Commissioner-cum-Commissioner Sankat Mochan Temple Trust, Dinseh Malhotra honoured the Chief Minister, Harsh Mahajan, Vice Chairman, HP Cooperative Bank and Sanjay Chauhan, Mayor, MC Shimla and other dignitaries with mementoes.
Sohan Lal and Shonkia Ram, Ex MLA's, Chandershekhar Sharma, President, Shimla Rural Congress Committee were also present on the occasion.