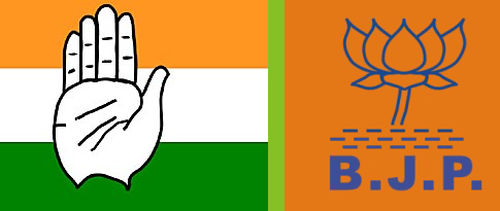 Ten main political parties of the country together had a whopping Rs. 2,490 crore of tax-exempted income in the last five years, according to information from the Income Tax department through a Right to Information plea of Hisar based RTI activist Ramesh Verma.
Of this the ruling, Congress and the main Opposition party BJP have cornered more than 80 per cent.
The figure of political parties' income in this period received under the RTI does not include the donations or income below Rs. 20,000 and hence a large number of small individual donations are not incorporated into it.
The Congress had a tax-exempted income to the tune of Rs. 1385.36 crore, more than double of the BJP, which recorded a tax-exempted income of Rs. 682 crore in the period between 2007-08 to 2011-12.
BJP ally JDU's tax free income in this period except the year 2008-09 has been Rs. 15.51 crore. BSP recorded an income of Rs. 147.18 crore in three financial years 2007-08, 08-09 and 11-12. The party filed incomplete return in 2009-10 and had no tax-exempted income in 2010-11. Sharad Pawar's NCP had a tax-exempted income of Rs. 141.34 crore in the five years from 2007 to 2012.
According to the information from the IT department, CPI-M recorded an income of Rs. 85.61 crore in four years in this period while it had nil income in 2008-09.
CPI's income in two financial years 2008-09 and 2009-10 is pegged at Rs. 28.47 crore.
JD(S) had an earning of Rs. 7.16 crore in two financial years of 2009-10 while Ram Vilas Paswan's Lok Janshakti Party (LJP) had a tax-exempted earning of Rs. 2.55 crore in four years from 2007 to 2011. Lalu Prasad's Rashtriya Janata Dal (RJD) earned Rs. 2.85 crore in three years from 2008 to 2011.
Political parties are exempted from tax on their income through section 13 A of IT Act 1961. They have to however, maintain a book of account for donations or income above Rs. 20,000.