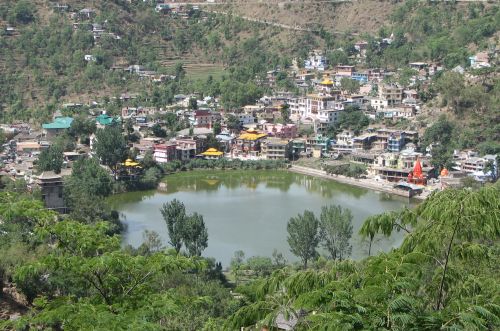 Located at a distance of 14 km from Ner Chowk and 25 km from Mandi in the state of Himachal Pradesh is a beautiful natural lake known as Rewalsar (1,360 m). The lake is famous for its floating islands. Hindus, Sikhs, and Buddhists revere the place equally for there are three Hindu Temples, a Sikh Gurudwara and three Buddhist Monasteries. A fine example of religious tolerance and harmony in India, Rewalsar Lake is an oasis of calm and a place of pilgrimage. Also known as Tso Pema among Tibetan and Himachali Buddhists, pilgrims come to make prayers, meditate or simply soak up the peaceful atmosphere.
The habitation that has grown around the Rewalsar Lake is also named Rewalsar. Here, HPTDC runs a practical Tourist Inn. Its presence enables every visitor to relish the beauty and ambience of this enchanting spot. Situated to accentuate a thrill from adventure opportunities that abound around Rewalsar, the hotel is built on a slight rise and offers a commanding view of both the lake and the valley below.
How to reach Rewalsar?
You can reach Mandi by boarding frequent state transport buses or by hiring taxis from Shimla or Chandigarh. Mandi is at a distance of 143km from the state capital, Shimla whereas the distance from Chandigarh is 184.6 km. The nearest airport is at Bhuntar, which is around 60km from Mandi, and the nearest Railway station is at Joginder Nagar.
What makes it so special?
A beautiful place worth visiting, a place for meditation and of great religious importance, Rewalsar puts forth the fine example of religious harmony for there are three Hindu Temples, a Sikh Gurudwara and three Buddhist Monasteries all at the same place. A place for natural beauty, oasis of calm and a place of pilgrimage for three of Indian religions, Rewalsar takes its visitors into a new world altogether.
What does it offer?
Some of the amenities that HPTDC's Rewalsar Tourist Inn offers include the following
 The rooms are airy, decently furnished and have attached baths with running hot and cold water
 Restaurant, Parking within premises.
 Gourmet Restaurant
 Doctor on call
 24-hour room service
 Swimming Pool
Main attractions in the vicinity of Rewalsar
Some of the stunning attractions in the vicinity of Tourist Inn Rewalsar include the following:
Monasteries: At opposite ends of the lake there are two Tibetans monasteries. The Bhutanese also have one.
Gurudwara : This Gurudwara was built in 1930 by Raja Joginder Sen of Mandi. It commemorates Guru Gobind Singh's visit, when he sought to evolve a common strategy with the hill rulers against the Mughal emperor Aurangzeb.
Temple: At Rewalsar there are three Hindu temples. These are dedicated to the sage Lomas, Lord Krishna and Lord Shiva.
Mini Zoo: The forest department maintains a small zoo at Rewalsar. Above Rewalsar, Seven Lakes are also of interest.
Tariff at the hotel:
DBR Deluxe ———————– 1500
Rewalsar Suite (4 Bedded) —- 1400
Three Beded Room ————- 1300
DBR Regular (NXB) ———— 1200
DBR Semi Deluxe ————— 1000
DBR Economy (NXB) ———– 900
DBR Economy ——————- 500