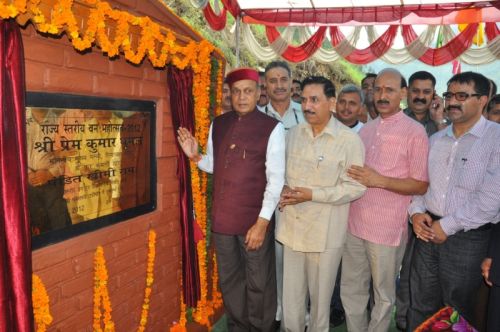 Chief Minister Prem Kumar Dhumal inaugurated 63rd State-level Van Mahotsav by planting a Deodar sapling in Sainj valley of Kullu district today. Ravinder Singh Ravi, Irrigation and Public Health Minister, Khimi Ram Sharma, Forest Minister, Gobind Thakur and Kishori Lal Sagar, MLAs and people of the area also participated in plantation drive on the occasion.
Addressing a public meeting, CM said that State was committed towards protection of forest wealth and had taken effective measures in this direction. He said that Government was spending Rs. 300 crore on various afforestation and other similar activities during current year in the State. He said that Degree College, Sainj would be started from next academic session so that students could get higher education at their door steps.
Chief Minister said that forest area in the State had increased from 21.1 percent in 1991 to 26.7 percent and added that forest cover had increased in the State as compared to other States of the country. He said that benefits worth Rs. 400 crore were being earned through forests by the people in rural areas. He stressed upon for protecting and ensuring survival of saplings in order to increase the forest cover. He said that State Government was implementing afforestation schemes like 'Sanjha Van Sanjivani Van', 'Apna Van- Apna Dhan' and 'Peepal Bargad' which had proved effective. He said that 148 Van Sarovars were constructed during the tenure of present Government and a target of constructing 100 additional Sarovars had been fixed for this year. He urged the people to come forward to supplement the efforts of the State Government in implementing 'Congress Grass Hatao- Paryavaran Bachao' Scheme for protecting fertile land. He said that 4200 hectare land had been treated by spending Rs. 22 crore and a provision of Rs. five crore had also been made for the same during current financial year.
Prof. Dhumal urged the people to ensure their participation in preserving forests and undertake afforestation activities in order to conserve the environment. He said that the global warming had disturbed the weather cycle and vigorous community efforts were needed to save the society from the devastating effects of Global Warming.
Chief Minister said that 704 panchayats were being covered under Mid Himalayan Watershed Development Project and an amount of Rs. 568.75 crore was being spent under the Project. He said that the World Bank had allocated an additional sum of Rs. 175 crore under Mid Himalayan Watershed Development Project besides making a provision of Rs. 220 crore for Swan Channelization Project. He said that 53,000 monkeys were sterilized in four centres and 21 additional centres were being set up to check monkey menace. He said that Government was formulating a scheme to plant sandal saplings in Mandi, Bilaspur, Hamirpur and Kangra districts. He said that the State Government had taken effective measures like restoring Timber Distribution (TD) Rights, encouraging bamboo plantation, meadows permits for sheep breeders etc.
Prof. Dhumal said that Rs. 200 crore were being spent on development of forests in the State during the current year and added that two crore saplings would be planted by spending Rs. 35 crore by bringing 20,000 hectares land under forest cover.
Chief Minister also released a book titled 'A Manual of Soil and Water Conservation' written by Additional Principal Chief Conservator of Forest J.S. Walia.
A sum of Rs. 1.01 lakh was contributed towards Chief Minister Relief Fund by Banjar BJP Mandal. Besides a sum of Rs. 51000 was donated by Sainj Valley Land Users Cooperative Society and Rs. 5100 by Shri Sher Singh Negi towards the Chief Minister Relief Fund.
Forest Minister Khimi Ram welcomed the Chief Minister and said that the State had fixed a target of planting two crore saplings including 45 lakh medicinal plants. He said that the present Government had made concerted efforts for upliftment of farmers and fruit growers of the State and congratulated the Chief Minister for achieving milestones in overall development of the State. He said that keeping in view the need of setting up of Degree College in the valley, the Chief Minister had been requested to sanction setting up of the College so as to provide higher education to the youth of the area at their door steps.
Om Prakash Thakur, President, Banjar BJP Mandal thanked the Chief Minister for paying special attention for the development of Banjar area. R.K. Gupta, Principal Chief Conservator of Forests detailed out the activities of the Forest Department. Pavnesh Sharma, Chief Conservator of Forests proposed vote of thanks.
Ravinder Singh Ravi, Irrigation and Public Health Minister, Gobind Thakur, Kishori Lal Sagar, MLAs, Dhaneshwari Thakur, Chairperson, Mahila Commission, Ajay Rana, Vice President, State BJP, Ram Singh, President, District BJP, other prominent BJP leaders and senior officers were present on the occasion.