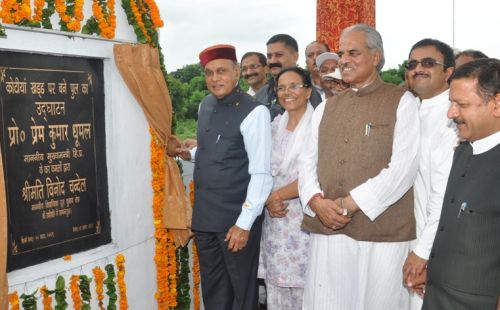 Chief Minister Prem Kumar Dhumal continues his inauguration spree and today he has inaugurated two bridges constructed at a cost of Rs. 5.36 crore at Kotian and Kuhranwala in Doon Assembly constituency of Solan District today. These bridges would provide connectivity to 13 villages of the area.
Speaking on the occasion, Chief Minister said that with the opening of quality educational institutions, the youth of the State were getting quality technical and vocational education at their door steps and added that many employment avenues were also created for un-employed youth. He said that four universities were opened in Atal Shiksha Kunj where students from Himachal Pradesh and other states were studying. He said that the quality of education being imparted in private universities was also being monitored and added that two private universities of the state secured first two positions at national level in biotech. He said that 12,000 students were studying in the private universities in the state out of which 6,000 students were from other states
Prof. Dhumal said that the centre Government had discriminated against the state in the matter of industrial package and added that the interests of the state were affected adversely. He said that the state Government had paid special attention towards developing rural areas especially villages. He said that the State received 69 awards for its achievements in various sectors which spoke volumes of its best performance. He said that 50,000 families were benefited by Doodh Ganga Scheme and added that the milk powder plant at Rampur had also facilitated many farmers.
He said that Rs. 36 crore were spent on roads during last four and half years in Doon Assembly constituency and added that new road projects worth Rs. 25 crore were sanctioned for the constituency. He said that only 62 kilometres new roads were constructed in the Doon area during congress tenure whereas 97 kilometres roads were constructed during last four and half years.
Prof. Dhumal announced up gradation of PHC Chandi to CHC, ESI Baddi and PHC Baddi would now function as CHC. He also announced opening of BDO office for Doon area. He announced up gradation of Government High School Mandhala to Government Senior Secondary School besides converting Gullarwala ground into Stadium. Rajpoot Sabha Nalagarh, Pradhan Gram Panchayat Mandhala and Doon BJP Mandal contributed Rs. 11,000 each and Rs. 51,000 towards Chief Minister's Relief Fund.
Vinod Chandel, Local MLA detailed out the developmental activities undertaken in the segment during last four and half years. Kumari Sheela, Chairperson Zila Parishad, Dhyan Singh Laddi, BJP Mandal President and Shrikant, local BJP leader also spoke on the occasion. Dr. Rajiv Bandal, MLA and former Health Minister, Virender Kashyap, MP, Dr, Rajiv Saizal, MLA, Meera Mohanty, Deputy Commissioner were also present on the occasion.