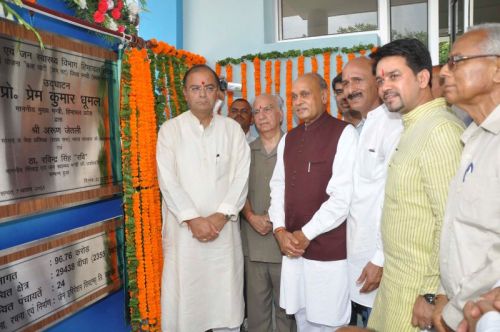 Chief Minister Prem Kumar Dhumal today dedicated the First Phase of ambitious Rs.104-cr Balh Valley (Left Bank) Medium irrigation Project to the people of Sundernagar, Nachan, and Balh Assembly segments at Kalahod in Sundernagar Sub-Division of District Mandi. First Phase of project cost of Rs. 97 crore. Ravinder Singh Ravi, Irrigation and Public Health Minister, Dile Ram, MLA, Chairman, State Finance Commission and President, District Mandi BJP, Roop Singh Thakur, MLA, Sundernagar and other prominent people of the area were present on the occasion. This would irrigate 2355 hectares (29438 bigha) of area benefiting 7500 families of 24 Gram Panchayats of the area. On completion of 2nd phase, 2780 hectare area would be irrigated.
The Chief Minister Prem Kumar Dhumal had laid the foundation of this project on January 14, 2008 with a view to provide irrigation facilities in the area to boost up commercial farming. He said that work on Second Phase had also been started and would be completed at a cost of Rs. 7.02 crore thereby bringing more areas under irrigation. He said that the second phase would be completed by December this year and would irrigate 425 hectares of farm land. He said that this project would benefit 57 villages of 18 gram panchayats of Balh constituency, 3 each in Sundernagar and Nachan Assembly segments.
Prof. Dhumal said that to feed the scheme water had been drawn from BBMB hydel channel and carried through inverted siphons to head works at Kalahod and after desilting boosted to overhead tank of lakh liter capacity to flow under gravity to tail end through main conveyance system. He said that the conveyance system was 1,390 hectares and don side 351 hectares which had been irrigated through 13 lift schemes and 0 gravity schemes, besides 18 tube well schemes for irrigation of 614 hectares. He said that main conveyance system would be 18.480 kms. Long and length of total pipes laid for phase one was 1721.86 meters.
Chief Minister reiterated the resolve of his the State Government to strengthen network of irrigation schemes and give boost to diversified farming activities in the area. He said that Balh valley had fertile land and farmers were progressive and the irrigation project would give new dimensions to farming practices in the valley.
Ravinder Singh Ravi, IPH Minister, welcomed the Chief Minister and detailed components of the Project with other activities of the department in the State. Arun Jaitley, MP and leader of Rajya Sabha, Shanta Kumar,MP and National Vice President BJP, Sarveen Chaudhary, Social Justice & Empowerment Minister, Kalraj Mishra, Incharge BJP, HP, Anurag Thakur, MP and National President BJYM were present on the occasion among others.