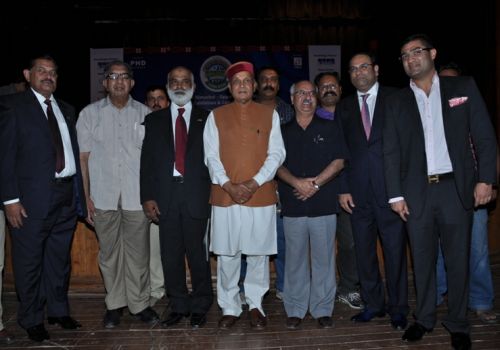 Chief Minister Prem Kumar Dhumal said that the State Government had introduced Single Window Clearance facility for allowing film shooting in different parts of the State. He was addressing the inaugural ceremony of the 2nd Edition of Mega Market 'Unforgettable Himachal – Opportunities Unlimited Exhibition and Conclave' organised by PHD Chamber of Commerce and Industry, at historic Gaiety Theatre, here today. He said that film production had emerged a regular feature in the State and with a view to facilitate film makers in shooting within the State of Himachal Pradesh Single Window Clearance facility was being provided.
Chief Minister said that PHD Chamber of Commerce and Industry would be making organization of Mega Market an Annual feature during summers to entertain and exhibit products besides giving boost to tourism promotion activities. He said that Himachal Pradesh had allowed 10 year tax holiday for running hotels in tribal and difficult areas with a view to give boost to tourism activities in such areas as also attract tourists to visit such virgin locations. He said that 'Home Stay' scheme had been successful wherein rural house owners had been associated with promotion of rural tourism and exempted from taxes. He said that such activities were bound to generate employment and self employment to rural youth besides exploring virgin destinations for tourists. He said that the State Government was endeavouring to create infrastructural facilities to high end tourists in association with private participation.
Prof. Dhumal demanded subsidized helicopter services in the State of Himachal on the analogy of North Eastern States so that tourists were flown from one destination to another by helicopter. He said that heli-taxi service had already been introduced by the State Government and was gradually picking up with the affording class of tourists. He said that matter of expanding existing airports at Shimla, Kangra and Kullu-Manali had been raised with the Government of India, but the same had not so far been conceded to. He said that entire transportation system rested upon roads hence the State had demanded construction of Bhanupalli-Bilaspur-Barmana broad gauge railway line as a time bound project and expand the same to national boundaries in Laddakh region, Leh, so that the entire route was opened for tourism promotion besides catering to the defence force transportation services. He expressed anguish over the attitude of Union Government for listing the proposed railway project under the 'Socially desirable' category whereas it should have been in the priority list keeping in view its strategic importance.
Chief Minister said that pristine environment of the State was dear to the Government and had successfully banned use of plastic carry bags, disposable plastic cups and plates with the voluntary cooperation of the people in the State. He said that nine point Environment Pledge was a regular feature in morning prayers in state owned schools in the State. He said that every village in the state had water, electricity, health and connectivity facilities and State Gross Domestic Product had increased from Rs. 33,000 in year 2007-08 to Rs. 63,500 in preceding year 2011-12, Per Capita Income from Rs. 43,000 in year 2007-08 to Rs. 73,500 during 2011-12.
Prof. Dhumal welcomed delegates from different parts of the country, especially from Pakistan to Himachal Pradesh and thanked for their association with the State. He also released Himachal Profile and Tourism in Himachal Pradesh brought out by PHD Chamber of Commerce and Industry. He also visited exhibition stalls of Mega Mart.
S.Roy, Chief Secretary, called the Conclave and Mega Market a welcome step and said that the State was heading to emerge a Green Tourism Destination by preserving environment and check all pollution activities. He said that the State had succeeded in procuring World Bank loan of 200 N US$ to further give boost to tourism infrastructural facilities.
Dr. Arun Sharma, Director of Tourism and Civil Aviation, gave a presentation to give an over view of the tourism potential available in the State and its contribution towards the State GSDP.
Scot Slessor, Counsul General of Canada, appreciated the initiatives of the state towards environment protection by banning use of plastic. He lauded achievements of the State in tourism and allied sectors and said that he had been a regular visitor to the State since long because of the natural grandeur available there. He assured of all help from Canadian Government in boosting tourism.
Sandeep Somani, President, PHDCCI, welcomed the Chief Minister and said that tourism industry was growing at 8 percent in the State. He suggested making Himachal Pradesh Eco-Friendly Tourist Destination. He also said that Mega Market would henceforth be a regular feature during summers in Shimla.
Iqbal Ahmed, Vice President of Chamber of Commerce and Industry, Rawalpindi, Pakistan, said that such events would be contributing significantly towards bilateral relations. He expressed happiness for being in Himachal and said that Pakistan had regularly been participating in various trade and commerce events in India.
Inder Sharma, Chairman, Select Holidays, K.P.Aggarwal, of KPMG, Ambrish Jaipuria, Chairman, PHDCCI, Himachal Pradesh Committee also addressed inaugural ceremony while Sushmita Shekher, Secretary General of PHDCCI, proposed vote of thanks.
Besides representatives from PHDCCI and other tourism organizations, Dr. M.P.Sood, Commissioner, Municipal Corporation, Lokender Chauhan, Managing Director, HP Tourism Development Corporation and other senior officers were present on the occasion.