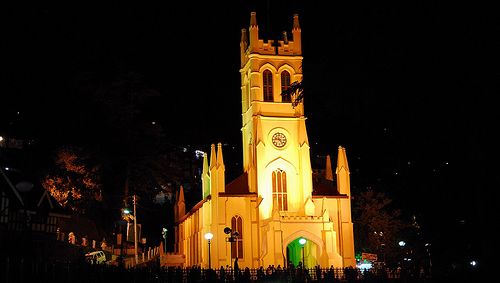 Amritsar Diocese Trust Association (ADTA) has leveled serious charges against its so-called parallel association Church of North India (CNI) of illegally operating and selling Church property including Christ Church on the Ridge Shimla, The State Library building on the Ridge Shimla and the all girls Auckland House School in Shimla.
The ADTA
ADTA is Amritsar Diocese Trust Association which came into existence after independence. With the merger of the Church property of the Church Missionary Trust (in 1953), Kangra Missionary (in 1954) and the Janana Mission (in 1959) in ADTA, ADTA was authorized to take care of the Churches, Schools and their property (that came to it by the said amalgamation) in the states of Himachal Pradesh, Haryana, Delhi, Punjab, Uttar Pradesh and Jammu and Kashmir. The Amritsar Diocese Trust Association (ADTA) was registered in 1959-60 under the Firm and Society Jalandhar (now in Chandigarh) (registration number: 99), with its registered office in Bishop House, 12 Tailor Road Amritsar.
Association with ADTA
Everything went fine for the ADTA in the next decade, but conflicts in ideologies of the senior members of the Association made peaceful things unsettling. To rectify with a consensus was reached on 20th November 1970, wherein the members united to form Church of North India (CNI) for united worship only. However, over time CNI is believed to have begun interfering in the administrative and legal matters of the ADTA. It is now believed that CNI has registered itself under ROC Delhi and claim authority over ADTA properties.
According to Samuel Prakash, member ADTA (res: Church Annexy Shimla)
The Amritsar Diocese Trust Association had warned the general public against the Church of North India, alleging them of minting money by illegally selling trust property in connivance with the land mafia at throwaway prices. He claims CNI members have sold the Trust property at many places and have also forged documents to register the Trust property in their names.
The fraud and evidences
The claims now bring us to a highlight on what has actually happened. By claiming authority over ADTA (essentially authorized to take care of the Church and its property in the six states of Northern India) CNI members have reportedly usurped the ADTA property and are misusing the same for their own interests. The Trust properties that can be evidentially proven illegally sold or bought are:
The Christ Church Shimla
According to evidences, the Christ Church Shimla and the State Library are proven property of the ADTA, but according to the Municipal Corporation Shimla's rent receipts the monthly rent is being paid into the accounts of CNI.